EV battery charging cables
Silicones: Efficient solutions for rapid battery charger cables for Electrical Vehicles (EVs)

By 2030, there will be an estimated 30 million Electrical Vehicles (EVs) on the road, with CAGR of over 20 %. The race is on today to produce a wide range of models to meet this fast-growing demand, from compact urban vehicles to high-end cars via intercity transport and industrial vehicles. All major carmakers are jockeying for positions, through better and more efficient technologies, to meet consumer needs for cleaner and more cost-effective vehicles. They must also comply with public authorities' increasingly strict regulations. Public support, such as EV subsidies, the banning of (Internal Combustion Engines (ICE) vehicles in some urban centers and lower electrical costs and many other measures are boosting the desire for people to switch from ICE to EV.
However, there remain two related and overriding factors that are the key factor for mass consumer uptake of EVs:
Increased power autonomy through high-performance batteries
Rapid-charging batteries for travel continuity
From socket to battery: an uninterrupted and optimal flow of energy
The two main factors for EV customer uptake, as stated above, is autonomy and rapid charging capacities. EV owners can now "fill up" on their electrical power at lightning-fast speeds both in the growing network of public charging stations as well as home charging installations. For example, the most advanced chargers can be recharged to 80 % capacity in as little as 20 minutes.
These charger cables must be able to safely and efficiently allow for a very high flow of electricity. For example, rapid DC chargers (the most common type today) provide power at 50 kW (125 A) while
ultra-rapid DC chargers provide power from 100 kW to up to 350 kW for the increasingly high-capacity batteries in new high-end EVs. To withstand this level of electrical flow, the insulation heat resistance capacities of the materials used for these cables must offer the highest levels of safety and efficiency.
Why is silicone rubber the material of choice for secure and efficient EV battery charging cables?
Hot and cold thermal resistance of silicone rubber makes it the insulation material of choice for EV battery cables, compared to all other insulation materials (PVC, polyethylene, etc.). Silicone-protected EV charging cables can withstand huge temperature variations from -60 °C to +250 °C. This means that an EV car owner can charge their battery safely in Arctic-cold conditions and withstand the heating that the high-voltage output will generate in the cable and charger.
Flexibility is another key reason for using silicone rubber for EV charging cables since the car owner can manipulate the cable as easily as a traditional electrical cable or gas hose, especially at low temperature during winter.
What other advantages does silicone provide for EV charger cables?
Silicone insulation materials for EV charger cables are very lightweight compared to other materials, meaning it contributes to energy savings and improving the environmental impact, but also makes it more convenient for consumers to use. Silicone insulation materials also provide the highest level of safety because of their insulation and fire-retardant properties
Finally, Elkem's EV charging cable products are compliant with the highest regulatory and quality requirements, benefiting from ISO 6722 and 14572 certifications (please fact check). In particular, they meet the highest industry standards, including LV 112 and LV 216, the quality benchmark used by leading carmakers worldwide.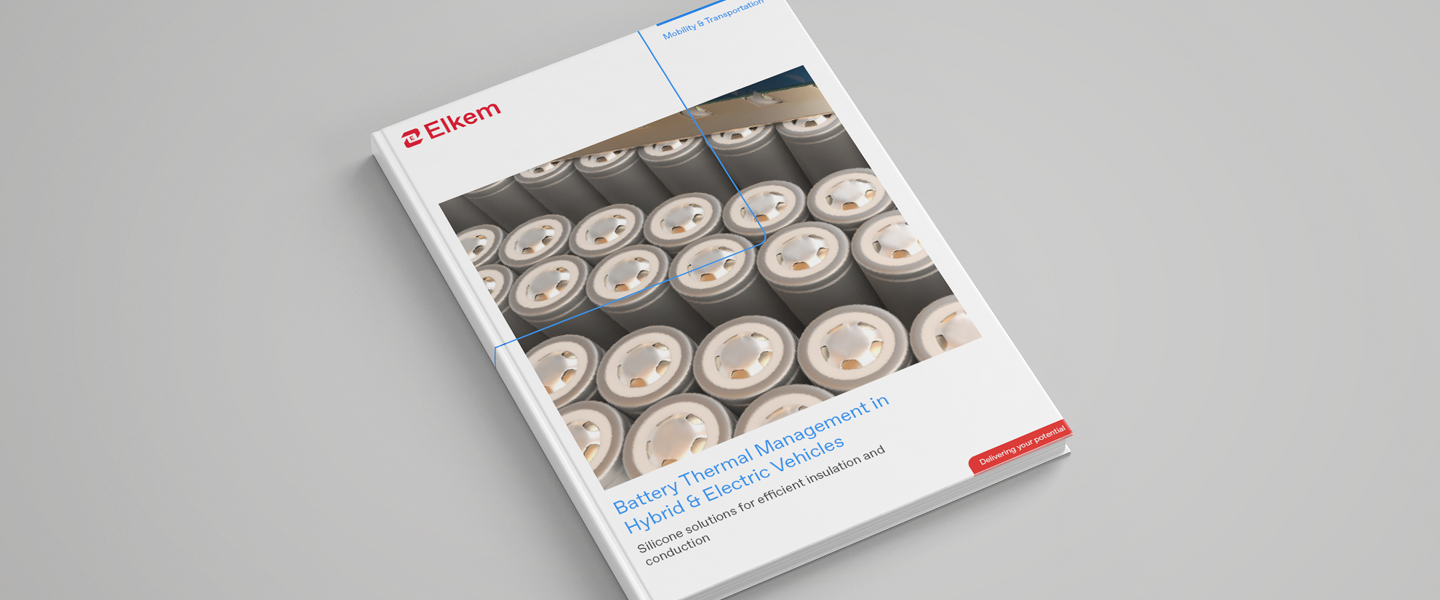 Battery Thermal Management in Hybrid & Electric Vehicles
Our product offering
Our Elkem MF product line for cables and wires ensures thermal and fire resistance, flexibility, reliable insulation, perfectly adapted mechanical properties and lightweight materials.
MF 8365 E (orange) is our silicone rubber compound specifically designed for LV 216 F and high-voltage rapid charging cables, featuring for efficient insulation, hardness for durability, tensile strength for reliability over thousands of uses, the highest level of elongation at break and tear strength to enable maximum length and volume resistivity for heavy-duty cables.
Rubber Solutions for automotive industry
Elkem has been working closely with EV (and HEV) OEMs and Tier 1 suppliers for many years to improve every aspect of EV performance, including power and thermal conductivity issues, insulation, potting and encapsulation, thermal heat management, etc. Our EV charger cables are an integral part of this full chain of offerings.
​
We have also developed a culture in line with the demanding requirements of automotive supply chain systems, so Tier 1 suppliers and OEMs always receive the products they need on time. Elkem Silicones also provides customization services to its clients through its Mix & Fix™ Centers, conveniently located near major automotive production centers on all continents.
Other services also include regulatory support, assistance to roll out productivity programs, training for teams and collaborative work on new developments. Their ultimate goal: to provide the entire automotive industry with the best tailor-made products and services in order to help to satisfy end customers.
Contact us
Take your business to the next level by partnering-up with a global leading material manufacturer.