Automotive, trucks & buses
Electrifying road transport
Our materials make electric vehicles safer, lighter and more efficient. We provide high-performance materials with high thermal and fire resistance and electrical insulation. They are used in vital components including ceramic filters, airbags, brake disks and tire manufacturing, where their unrivalled properties can be relied on to ensure mechanical integrity, helping drivers avoid road accidents and get home safely.
We contribute to create stronger and more durable vehicles parts
Ferrosilicon for steel used in vehicles structural body part

Improving quality and performance of steels using ferrosilicon alloys

The growing demand for higher-performance steels is placing ever-greater emphasis on the quality of ferrosilicon (FeSi) alloys used in steel manufacturing plants – and at Elkem, we're ready to help you make the best decision for your business.

Eleksil ferrosilicon product

Ferrosilicon alloys
Ferrosilicon special steel for used in vehicles structural body part

Enhancing manufacture of special steels using high-purity ferrosilicon

The term 'special steel' encompasses a wide range of steel grades, and usually refers to products with a higher proportion of alloying elements, or with tailored properties for niche applications. We understand the important role that ferrosilicon (FeSi) plays in achieving these specifications, and our specialists are ready to help you choose the right product.

Ferrosilicon material

Special steel used in ball baering pieces
Silicones reusable vacuum bags composite molded parts used in automotive

Silicone reusable vacuum bags (RVBs) for better composite infusion molding applications

Silicones Reusable Vacuum Bag for Infusion Molding is an innovative technology that is revolutionizing the way automotive parts are produced. This technology allows for the production of high-quality automotive parts with a high level of accuracy, repeatability, and cost-effectiveness. It is a revolutionary process that offers a wide range of benefits over traditional manufacturing methods, including improved product quality and reduced waste. In this article, we will discuss the advantages of using Silicones Reusable Vacuum Bag for Infusion Molding to produce automotive parts and how it can help manufacturers reduce their costs and improve their product quality.

RTV Silicones suitable for composites molding

Composite materials are increasingly being used to make molded parts for industries such as land-based transportation, automotive
Thermal expansion silicones for composite molded parts used in automotive

Thermal expansion molding of composites

Composites, also known as composite materials, are fiber-reinforced resins or polymers intertwined in matrices, which are molded in expansive thermosetting processes to produce lightweight and highly resistant parts and structures.

Silicones are used to produce lighter, more long-lasting and reusable parts

Silicone RTV are used for Thermal expansion molding of composites
Silicone rubber used in vehicles elastomeric parts

High Performance Silicone Rubber for Automotive parts

The automotive industry, which currently produces up to 80 million vehicles per year, is constantly innovating and demanding new high-performance applications, both under the hood and elsewhere in the car. These new advanced automotive parts are often designed to reduce weight and fuel consumption, thereby leading to smaller and more compact engine compartments, The reduced space results in higher temperatures and more stress to vital parts because of higher air pressure, greater water flow, more powerful fuel injection and corrosive fluids.

High-quality rubber silicone for advanced automotive parts

Critical automotive parts must withstand extreme conditions
Silicon for aluminium brazing used in vehicles functional parts

Elkem SILGRAIN® - customized silicon materials for aluminium brazing application

Silicon a key element for enhanced aluminum brazing and great bonding
Aluminium Brazing technology is typically applied to produce heat exchangers in the automotive industry, such as radiators, and for indoor applications, such as air conditioning and refrigeration.

SILGRAIN® Braze
SILGRAIN® Braze is a tailored Silicon with homogenous quality and available in industrial volumes.
Special care is taken to closely control the particle size distribution and minimise the risk of oversize particles in our SILGRAIN® Braze product.

Aluminium brazing in production of heat exchangers

Silgrain® Braze is a tailored Silicon with homogenous quality and available in industrial volumes
Industrial assembly: sealing and bonding applications.
High quality standards silicones for industrial assembly and Electronics Protection
We strive to electrify mobility, transforming lives everyday
We enable modern transportation with on-board electronics
Silicone applications for transportation on-board electronics

Cutting-edge solutions for potting, encapsulation and protection of key components

In the vast field of transportation, and in particular in the automotive industry, efficient on-board electronics are at the heart of all vehicles. From traditional internal combustion cars to fully-electrical vehicles (EVs), on-board electronic technologies use an increasing number of sophisticated technologies: sensors, actuators, IGBT (Insulated Gate Bipolar Transistors), CPUs (central processing units), PCBs (printed circuit boards), etc.

Electronic components

Insulated Gate Bipolar Transistor
Potting & encapsulation silicones to protect on-board electronics

Allow your electronics to last longer and provide better performances thanks to silicones potting and encapsulations.

Silicone potting and sealing of electronics for the automotive industry is a process of encapsulating electronic components in a protective coating. This process is used to protect components from dust, moisture, vibration, and other environmental factors that could compromise the integrity of the product. The process also offers EMI/RFI shielding, and improved product aesthetics. The silicone used in the process is typically a two-part system of an A component and a B component that, when mixed, create a fully cured silicone coating. The silicone coating is applied to the components either manually or by automated dispensing systems, and then cured at an elevated temperature. The resulting silicone-encapsulated product is highly reliable and resistant to environmental and vibration-induced damages.

Potting and sealing electronics with silicone

Electronic protection
We enable the mobility electrification
Silicon for battery cells

The silicon of choice for the next generation of rechargeable lithium-ion batteries

Silicon is currently used to produce e.g. SiOx, silane for different silicon morphologies and sized silicon to be used as anodes in lithium ion batteries.

Silicon as anode material in lithium-ion batteries

Lithium-ion batteries are connected to the electric circuit of an electric vehicle
Ferrosilicon for electrical steels in EV motors

Electrical steels in EV motors

Ferrosilicon is a trusted material for the production of electric vehicle (EV) motors due to its ability to withstand high temperatures and provide reliable electrical insulation. Its magnetic properties also make ferrosilicon suitable for use in EV motors, as it can help reduce hysteresis losses.

Industrial electric motor

Cutaway view of Electric Vehicle Motor with suspension on white background
Silicone for H&EV battery pack thermal management & sealing

Silicone solutions for sealing, bonding and protecting sensitive electronic parts in H&EVs

Silicones are increasingly being used in hybrid and electric vehicles, as they offer superior comfort, safety, and performance. Silicones are used in a variety of ways, such as for insulation, sealing, and gaskets, as well as for lubrication and protection from environmental elements. They are lightweight, durable, and resistant to extreme temperatures, making them an ideal material for use in these vehicles.

Electric SUV car with battery package

Battery pack in battery room in power plant
Silicone rubber for EV cables

Highly reliable EV cable silicone solutions

Silicone solutions for rapid battery charger cables for Electrical Vehicles (EVs) provide a cost effective and reliable way to rapidly charge the battery. Silicone cables have excellent temperature, chemical, and electrical properties that make them a popular choice for EV charging cables. Silicone cables are also lightweight, flexible, and provide excellent insulation, making them an ideal solution for EV rapid charging needs.

Charging modern electric car on the street which are the future of the Automobile

Electric car charging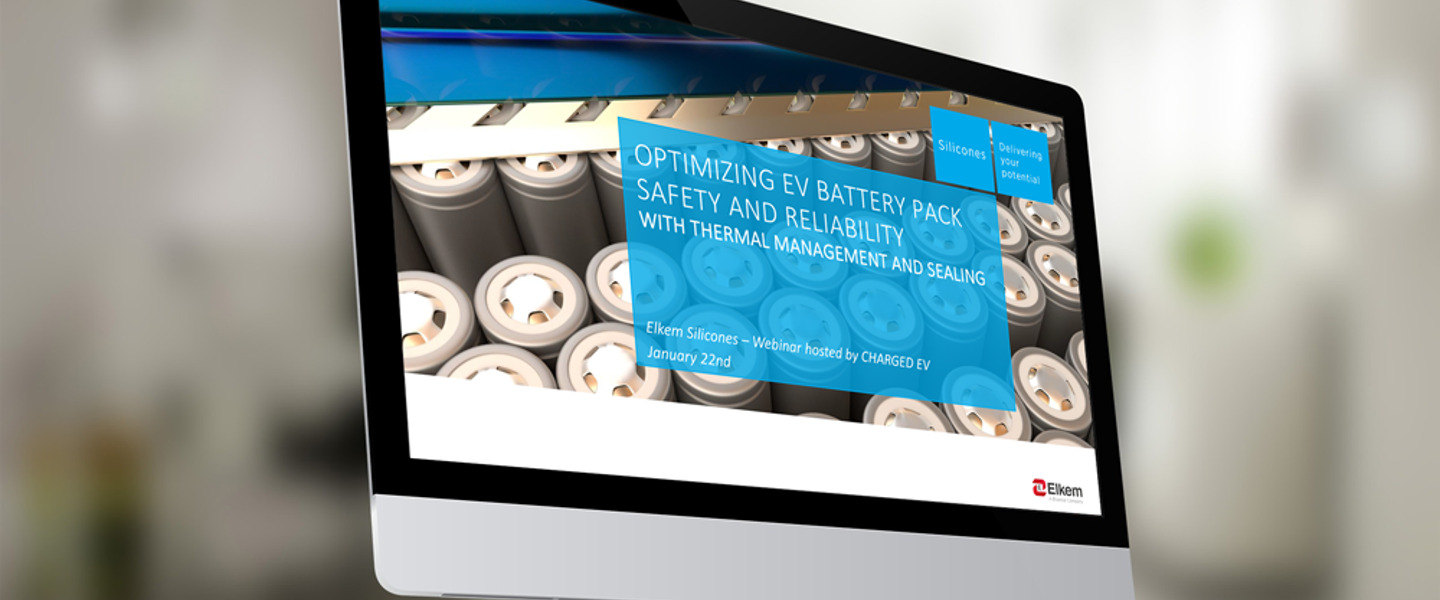 Optimizing safety and reliability of EV Battery Packs with Thermal Management and Sealing
Learn how silicone materials can help you improve the performance of your battery pack and protect it against harsh environmental conditions in this webinar
We perfect tire manufacturing processes
Polymer additives for rubber compounds formulation

The influence of silica surface properties on physical performance of tire tread compounds

In efforts to improve fuel efficiency of automobiles, new types of tire tread compounds have been designed and developed in recent years to improve rolling resistance performance and address limitations of the so-called 'magic triangle' between rolling resistance, wet grip and abrasion. One of the strategies of tire producers has been the replacement of plasticizers and the use of low structure, low specific surface area silica in tire tread formulations to improve rolling resistance performance without reduction in wet grip and abrasion resistance.
Silicone release agents for tire manufacturing operations

Release agents and coatings for tire manufacturing

Silicone release agents and coatings are an important part of tire manufacturing. They help to provide a uniform and consistent finish on the tire surface and can improve the overall performance of the tire. Silicone release agents and coatings also provide a protective layer to the tire which helps to prevent damage and extend the life of the tire.

Tire Release

Silicone for a secure tire release and durable bladder life
We make road vehicles safer for passengers.
Silicone coating and seals for airbags

Silicones are key components of the durability and safety of airbags.

In vehicles, frontal and side airbags provide added protection to occupants in case an accident occurs. They help prevent severe injuries, and even save lives. To do their jobs, airbags must deploy intact and extremely fast, without fail, so they can serve as cushions on impact, and then deflate in a controlled amount of time.

Silicones for Airbags

Close-up car seat airbag.
Foundry alloys for compacted graphite iron used in brake disks

Controlling vermicular graphite formation with foundry alloys

Compacted graphite iron is increasingly used in specialist automotive and transport applications, thanks to its combination of high tensile strength, good fatigue properties, and ease of machining. With our combination of expertise, product quality and global reach, you'll find Elkem is your ideal partner for optimizing production of compacted graphite iron.

Compacted graphite iron application

Graphite nodules in ductile iron
Foundry alloys for ductile iron used in crankshaft

Controlling spheroidal graphite formation with foundry alloys

Ductile iron is a versatile material that has grown in popularity over recent decades, due to its excellent mechanical properties and castability. For these reasons, ductile iron castings are the preferred choice in many sectors, including wind energy, engineering and automotive industries.

Spheroidal graphite in ductile iron

Ductile iron in automative parts
Foundry alloys for gray iron used in brake disks

Improving microstructure using foundry alloys

Gray iron accounts for the majority of cast iron production, and is valued where its unique properties, including castability, stiffness, heat dissipation and vibration damping, take priority – for example, in automotive engine cylinder blocks and brake discs.

Inserts for gray iron

Gray Iron application
We enhance your car design, in and out
Silicone for durable & heat resistant paint & coatings

Providing reliable and safe protection against extreme temperatures in multiple applications

Paints and coatings are an integral part of industrial production and maintenance. They help protect surfaces from wear and tear, as well as provide aesthetic features. With the right choice of paints and coatings, it is possible to achieve desired performance and application properties.

Heat-resistant silicone resins is designed and manufactured to provide high levels of protection

Silicone-based coatings protect, preserve and bring customized functionality and style to all surfaces.
Silicone coated fabrics for automotive interiors

Create sustainable, comfortable & safe performance fabrics with Bluesil TCS Silicones

Technical textiles offer a great solution to many problems. They are lightweight, durable, and often have a range of uses. They are a great choice for many applications due to their versatility and performance.

Sustainable coated textiles

Silicone elastomers are extremely durable, offer a modern look and comfortable feel
Contact us
Take your business to the next level by partnering-up with a global leading material manufacturer.