Elkem Advanced Battery Materials
Elkem Advanced Battery Materials' Northern Recharge project aims to supply the fast-growing battery industry through a competitive production process and make batteries greener with lower CO₂ emissions.
At Elkem, we have developed advanced process technology and materials for over a century. With access to clean hydro power and highly skilled employees, Elkem is ready to deliver your potential into a new century of sustainable energy and transport.
High-end synthetic anode graphite for the most demanding applications.
Competitive and sustainable hydro power based production.
Reliable supplier with strategic location in Europe.
Your development partner with strong competence in carbon and silicon materials and lithium-ion batteries.
In our in-house lab and pilot plant we will tailor-make products to your specifications.
Product performance:
Our portfolio of high-end synthetic graphite products include:
High energy products for EV application with capacity of 360 mAh/g and high electrode density
Products with balanced performance for energy and charge capability
Products for fast charge
Please feel free to get in touch for product data sheets.
Below you will find an illustration showing where Elkem enters the battery value chain: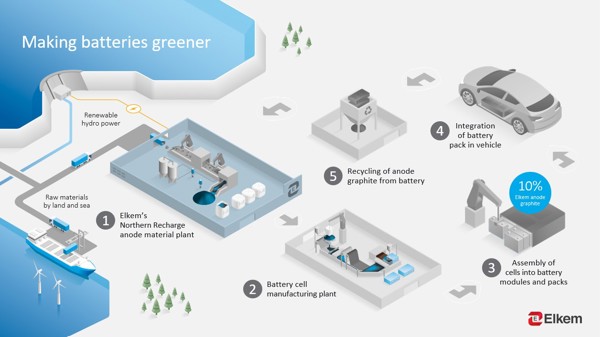 Elkem is currently constructing a pilot plant for battery graphite in Kristiansand, Norway. The pilot, which represents an investment of NOK 65 million, aims to conclude process route and qualify products, and is expected to open in the beginning of 2021.
Based on conclusions from the pilot, Elkem will evaluate the basis for competitive industrial production with its Northern Recharge project.
Northern Recharge impact assessment:
Elkem plans to establish a new industrial plant for the production of anode graphite at Herøya Industrial Park, Porsgrunn, Norway. In this connection, an impact assessment was published on the Norwegian Environment Agency's portal on 6 October 2020. The document is also availiable for download.