Reprocessing service in the Circular Economy
The three R's of a circular economy are often considered as Reduce, Reuse, Recycle. In this article we will look at a silicone rubbers from a reuse/recycle angle.
As part of the circular transition, Elkem strives to maximise value of materials and minimise waste generation. Elkem is working closely with its customers to create a stronger, more circular, value chain.
Silicone rubbers are sold in preformulated packages generally only needing final curing to create a durable solid rubber material. Our customers look for the perfect balance of managing demand and stock while maintaining the properties of the silicone rubbers to extract maximum value. Occasionally, this challenge is too great and the rubber material they have in stock is no longer fit for purpose for their clients. In order to repair, reuse and regenerate silicone materials, Elkem's rubber formulators can provide reprocessing solutions to our customers.
"Our challenge was to help our customers manage stock levels and to provide expertise to evaluate the performance characteristics of silicone products during their shelf life and, when possible, beyond the recommended expiry date", says Olivier Blanchoz, Global Product and Service Manager for Rubber Business in Elkem.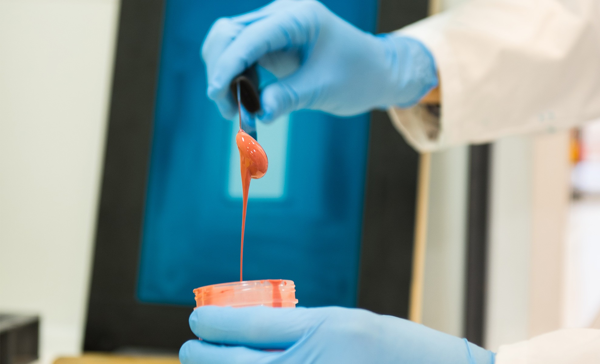 When the shelf life has expired, silicone rubber products can frequently still be used, but must be analysed and evaluated for possible use carefully evaluating the risks, as the products are no longer guaranteed to perform as originally intended. This avoids discarding products solely based on their suggested shelf life, but is typically used as a last resort and reprocessing is generally preferred.
Elkem Silicones' experts analyse samples to see if they are reusable in their current state or if they can be reprocessed. In the latter case, customers send their stock to a designated processing plant and reworks the products to restore their original mechanical characteristics.
"Re-milling combined with Re-plasticising can reinvigorate the rubber product and extend the shelf life without loss of material properties. The use of a plasticiser additive recovers some of the original properties of a freshly made rubber as does the process of physical rework through a milling process", says Blanchoz.
This service is provided through Elkem "Mix&Fix" centres, based in Italy, Spain, United Kingdom, China and North and South America. Hence, a local solution is provided further respecting circular economy principles and reducing unnecessary transport. Two of our key customers in rubber are currently using this service. Customers can send samples of their silicone rubber compounds to the "Mix&Fix" centres and explain the characteristics needed.
When reprocessing is not possible or the product is no longer fit for purpose, the customer is informed and, in some cases, alternative treatments can be found. Elkem Silicones can advise customers how to use the products in other applications or, if no longer possible, how to dispose of stocks in the cleanest and most economical way. The Reprocessing Service is available to ensure that silicone compounds are properly used, recycled or disposed of in an environmentally safe way.
This example shows how Elkem Silicones tries to give second life to some of its products. In later articles we will cover chemical recycling of silicone materials and new and innovative ways of giving a second life to cured solid elastomers (rubbers).
The text has been prepared by Louis Vovelle, Cor Oldenziel, Olivier Blanchoz and Sean Duffy.