Oil & Gas
Silicone Foam Control solutions to improve productivity, quality and safety from the drill to the fill

Oil & Gas exploration, drilling (onshore and offshore), extraction, separation, transportation and refining are carried out in extremely different conditions which can be highly variable. From oceans to deserts and from the tropics to the arctic, the particular conditions as well as the characteristics of the petroleum materials, require the correct products to perform for the end user.
During every production stage upstream and downstream, foam bubbles can slow processes and reduce productivity as well as create safety and environmental hazards. In most cases, the formation of foam bubbles must be reduced or eliminated to increase productivity, enhance quality and reduce costs.
For over 60 years, Elkem has been working closely with many Oil & Gas companies worldwide to provide silicone solutions for foam control. From drilling to the gas pump, Elkem provides a comprehensive line of SILCOLAPSE™ and BLUESIL™ foam control solutions covering the entire Oil & Gas processing chain. With 60 years of development and experience, Elkem has products designed for specific and efficient foam control, whether defoaming, antifoaming or deaeration.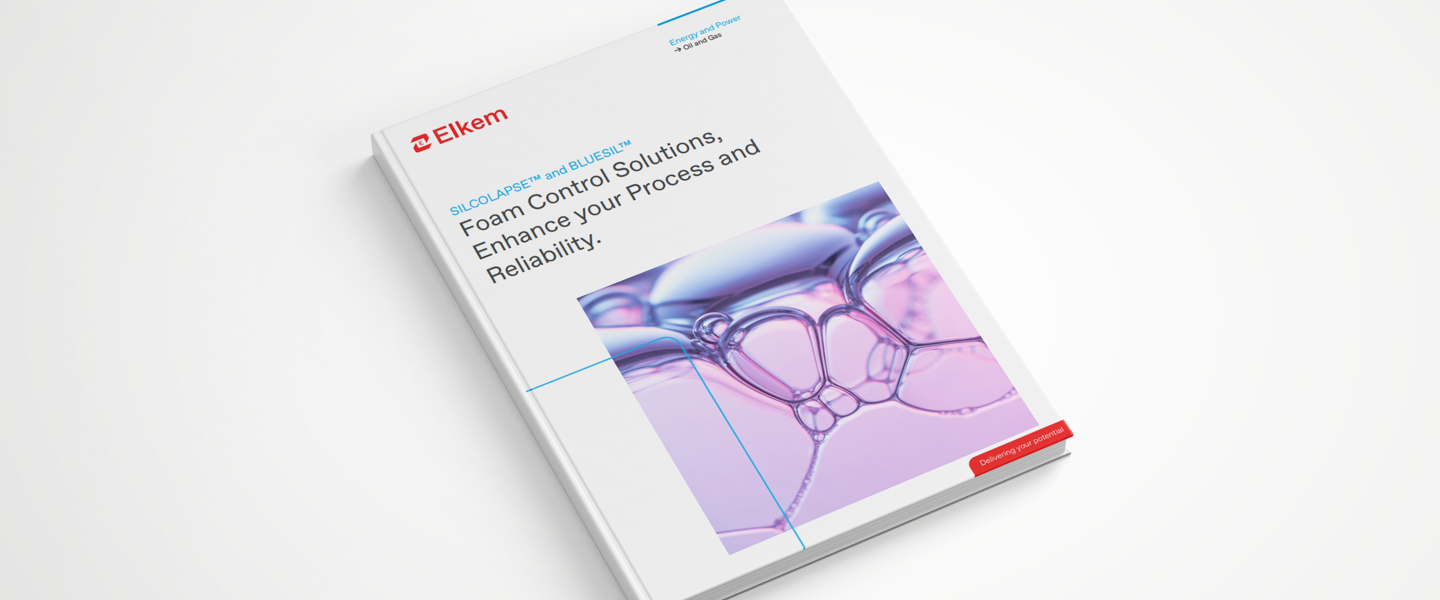 SILCOLAPSE™ and BLUESIL™ foam control solutions
Foam Control Solutions, Enhance your Process and Reliability.
What are the main applications and advantages of silicone-based foam control solutions for the Oil & Gas industry?
Silicone foam control solutions (also referred to as anti-foams or defoamers) are recognized as the material of choice because they offer several advantages compared to organic or mineral substances. First, silicone defoamers prevent foam from occurring upstream and reduce it more quickly and efficiently when it does occur (known as the knockdown effect). Second, they are more resistant to chemical corrosion and temperature variations. Third, the quantities of silicone anti-foam products needed to achieve the required effects are much lower than other products and offer more durable lower surface tension, especially important in complex and long-lasting processes. Third, they are inert and therefore safer for people and the environment.
Elkem offers its customers a wide range of products that meet specific needs in all processes of the Oil & Gas industry, from initial exploration to final refinement of end-products. Here are several examples of products available globally:
SILCOLAPSE™ C581 is an emulsion featuring high efficiency (knock down and durability) particularly for drilling muds & cementing applications.
SILCOLAPSE™ SP ULTRA 1 is a recently developed powdered foam control agent designed for preventing holes in cement and concrete drilling shafts, allowing efficient air release of and drilling mud and preventing gas from escaping through the sluice.
SILCOLAPSE™ 140 is a non-ionic aqueous emulsion containing 30% of dimethylpoly-siloxane, offering the advantage of very quick defoaming and long duration for prevention, control and elimination of foam in aqueous media particularly used in drilling and cementing.
SILCOLAPSE™ EASY 10 is a 10 % versatile easy-to-process silicone emulsion, highly effective for prevention, control and elimination of foam in aqueous media, eliminating the need to use several products and providing excellent performance at low dosage levels.
SILCOLAPSE™ C563 is an emulsion featuring high efficiency (knock down and durability) particularly for amine gas scrubbing and gas sweetening.
SILCOLAPSE™ 910 is an innovative highly-active compound silicone foam control agent that is widely used by service companies to develop ready-to-use auxiliaries for the Oil & Gas and Pulp industries. SILCOLAPSE™ 910 meets all essential criteria in terms of productivity, reliability and quality, to reduce total cost of operations, including excellent foam knock-down and persistence, low dosage, etc.
SILCOLAPSE™ 825 is a medium viscosity 100 %-active compound defoamer, featuring easy handling and processing, especially designed to control aggressive media.
BLUESIL™ FLD 47 are a PDMS (Poly Dimethyl Siloxane) fluid defoamers available in different viscosities (12,500 to 60,000 cSt) to process specific crude oils with high gas content that tend to foam severely and which can affect separation quality, reduce efficiency and the productivity of distillation.
BLUESIL™ SP 3304 is a surfactant with high efficiency for oil demulsification.
As mentioned above, this list is an extract of our SILCOLAPSE™ and BLUESIL™ available products.
We offer many other products, including some additives and complementary formulations marketed under the BLUESIL™ brand, either regionally or for specialist applications in different
territories or different petrochemical applications. For more information, you can contact our representatives in your area or request more documentation available on this page.
Why choose Elkem for your defoaming solutions in Oil & Gas?
To begin with, we have 60 years of providing effective and innovative silicone defoaming solutions to the Oil & Gas industry and related high-foam industries such as Pulp & Paper. Elkem expert teams have developed a full range of silicone foam control agents and processing aids to meet the entire chain of technical requirements in Oil & Gas. We always work closely with our customers to back them with our on-site technical services and are devoted to providing them with the best products backed with process and application guidance.
Elkem is a fully-integrated global silicone manufacturer, mastering the full value chain from quartz to specialty silicones. This way, we can offer or achieve increased process efficiency and operational excellence, help to reduce maintenance, energy consumption and waste, ensure safety for operators, all of which contribute bringing down Total Cost of Operations.
Elkem Silcolapse™
The Art of Foam Control
Customers can work with our technical and sales representatives, conveniently located near major Oil & Gas production centers on all continents.
Other services also include regulatory support, assistance to roll out productivity programs, training for teams and collaborative work on new developments.
What can SILCOLAPSE™ Antifoams do for you in Oil and Gas industry?
Discover our solutions to increase your process efficiency.
Contact us
Take your business to the next level by partnering-up with a global leading material manufacturer.