Elkem considers good corporate governance to be a prerequisite for value creation and trustworthiness. In order to secure good and sustainable corporate governance, Elkem strives for environmentally friendly and healthy business practices, reliable financial and non-financial reporting and a strong compliance culture across the group.
Corporate governance, compliance and supply chain
Elkem's business strategy and corporate governance policy are approved by the board of directors and provide the overall framework for the group's strategic direction and governance structure.
Elkem has a zero-tolerance policy against corruption and is committed to avoid anti-competitive practices across all operations.
It is important to Elkem to work with business partners of high ethical integrity. Elkem does not accept bribery, environmental breaches, or human rights violations committed by our business partners. Relationship managers are required to carry out adequate due diligence on business partners before entering the business relationship.
Responsible sourcing is a strategic priority for Elkem. The group sources raw materials, capital goods and services for its operations around the world. Elkem's total procurement spend is approximately NOK 16 billion per year, covering supplies of raw materials, energy, goods, services and logistics. The active supply base consists of about 15,000 suppliers globally. The number of raw material suppliers is relatively low while the number of suppliers of goods and services such as hardware, plant equipment and services are high.
Governance targets
Adhere to the Norwegian Code of Practice for Corporate Governance (NUES)
All new raw material suppliers subject to assessment and pre-qualification screening
All new suppliers of raw material subject to supplier audit
All new suppliers to sign Elkem's Code of conduct for business partners
Risk management
Ultimately the board of directors has the responsibility to ensure that Elkem has appropriate risk management systems reflecting the extent and nature of the group's activities. This includes responsibility for ESG related issues. Elkem's operational philosophy, according to the Elkem Business System (EBS), is to organise resources close to the value chain and operative functions. This principle also applies to risk management, which is an integrated part of the line management's responsibility. Areas like EHS, quality, product stewardship, compliance, legal, IT, finance and other control departments, oversee, facilitate and report on the risk management activities.
The board of directors conducts an annual review of the company's most important risk areas. Elkem's total risk exposure and business performance is analysed, evaluated and summarised at corporate level. The process is bottom up where each of the divisions and key corporate functions go through a defined process to identify and quantify the main risks. The key risks at the group level are further analysed both in terms of impact and likelihood before and after mitigating activities. An overview of the top risks at the group level are presented to the board for review and assessment of risk tolerance and further mitigating actions. The overview can be found in the annual report.
Sustainability risks and opportunities
For Elkem, increased attention on sustainability in society is a great opportunity. Elkem's products are critical input factors to a vast number of applications that are necessary in sustainable solutions such as renewable energy, energy storage, mobility solutions, infrastructure improvements, digitalisation and health care. The increasing demand for low-carbon technologies and products such as solar panels, batteries and electrical vehicles will therefore increase demand for several of Elkem's product segment within silicones, silicon and ferro-alloys. We are simultaneously engaging actively to reduce the environmental impact from our own production processes to create the materials necessary to a enable a sustainable future.
An overview of opportunities and challenges in the Elkem value chain: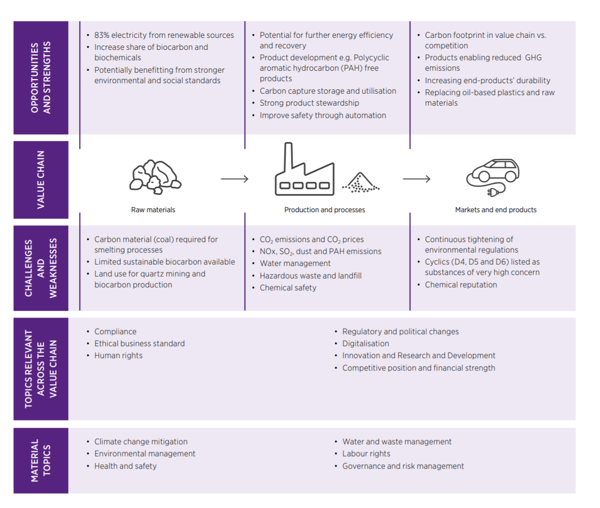 Contact us
Take your business to the next level by partnering-up with a global leading material manufacturer.