Composites Thermal Expansion Molding
Silicones enable accurate and cost-efficient expansion molding processes for composite materials

Composites, also known as composite materials, are fiber-reinforced resins or polymers intertwined in matrices, which are molded in expansive thermosetting processes to produce lightweight and highly resistant parts and structures.
Initially introduced and developed by the aeronautics and space industries to produce lighter and more durable parts previously made of metal alloys, composites have become cost-effective materials of choice for making cutting edge components for a growing number of industries:
In the automotive and transport sectors, they are widely used to produce lighter, more long-lasting and reusable parts
In renewable energy systems, such as wind turbines, they are used to make large-size propeller blades that resist high winds and extreme climate conditions or in offshore tide turbines
In nautical crafts, they can be molded very precisely to make solid smooth hulls and other parts that resist extreme pressure and salt-water corrosion
In construction and civil engineering applications, composites are replacing concrete and steel structural parts in a range of infrastructure applications
In a growing number of industries, composites are used for prototyping new and innovative parts so they can be tested and approved in real-life use before ramping up to serial production.
The list is almost endless and growing: sports equipment (rackets, bike frames…), furniture and decorative accessories, medical and dental prosthetics, liquid and chemical storage tanks, offshore oil & gas rigs, etc.
Why are silicones the ideal material for thermal expansion molding of composites?
Basically, thermal expansion molding is crafted in flexible silicone countermolds placed within solid containers made of metals or other rigid materials. The composite material (generally known as a prepreg) is positioned into this molding setup and self-pressurized by thermal expansion.
The key to producing the finished mold to the exact specifications is that the silicone countermold material must have the exact characteristics to shape and texture the composite used to produce the final part. This is achieved by using a silicone formulation that provides the following characteristics:
The proper volumetric thermal expansion coefficient (also known as the dilation coefficient), i.e. the capacity of the silicone countermold to yield and resist the effect of the composite's change in pressure, shape, surface area, volume and density as a function of its change of temperature.
The silicone molding material must also have the right thermal resistance properties so that it maintains its performance as temperature rises or declines.
It must also have the anti-adherence characteristics to withstand the often aggressive and strong adhesive features of the epoxies used in the composite and have the proper anti-slip properties so that demolding is efficient and does not alter the final product.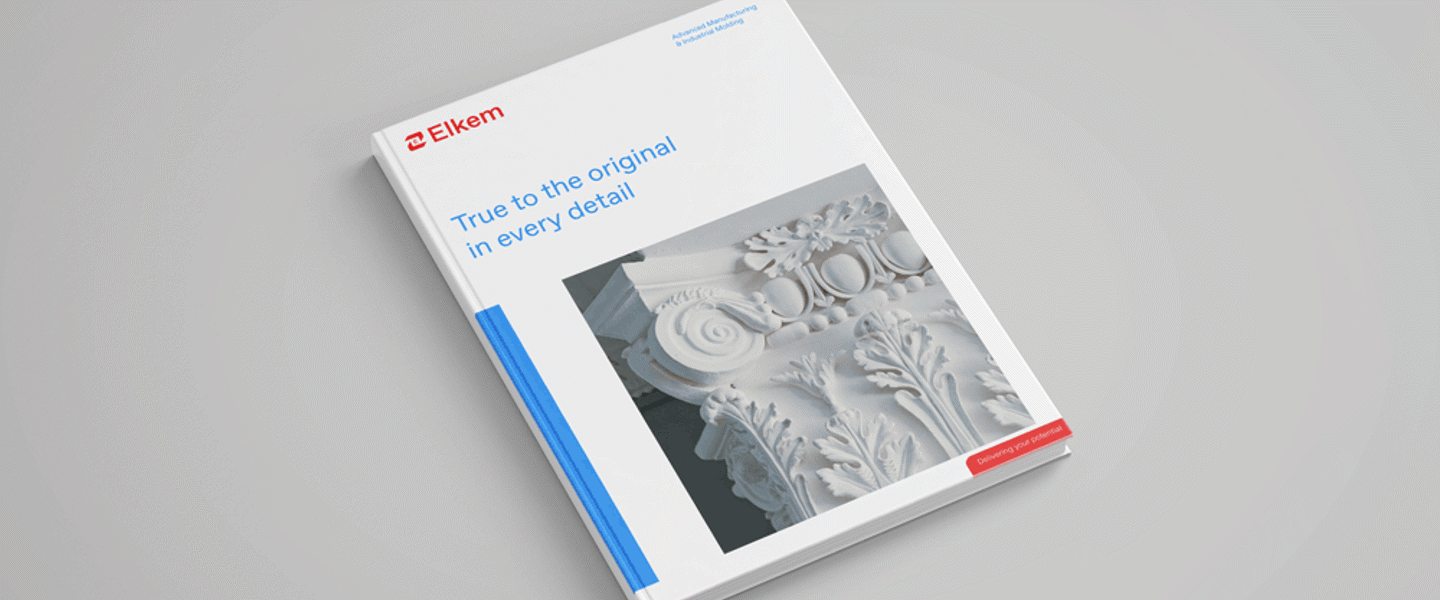 Silicones solution for Advanced Molding & Printing
Why choose Elkem Silicones to design, develop and deliver the right materials for thermal expansion molding of composites?
We have over 60 years of experience in providing effective and innovative silicone molding and release solutions to a wide range of industries. Elkem Silicones expert teams know the specifics of each sector and each region in this very diversified field and we always work closely with our customers upstream in R&D, we listen to their needs, we provide them with standard or customized products, backed with process and application guidance and on-site technical services.
Our standard product offering includes:
BLUESIL RTV 3428 A&B, a two component silicone elastomer used for a wide range of applications which has established itself as an industry standard in aeronautics, shipbuilding, automotive, transport and other industries over many years. It is specifically designed for pressure molding as well as high-thermal autoclave processes. It is especially efficient in reproducing the finest details and offers mechanical resistance and a long-life span for making multiple molds.
The CAF™ brand, created over 60 years ago, has also become a benchmark in industrial RTV-1 silicones and has established long-lasting partnerships with major industrial customers throughout the world, based its ability to be integrated in demanding applications and outstanding quality standards (ISO 9001, PPAP approach, ISO EN 9100, etc.).
Our true added offering: contributing to your innovation and development
Elkem Silicones is part of the Elkem Group, a fully-integrated global silicone manufacturer, mastering the full value chain from quartz to specialty silicones. Also, because we are involved in all sectors of industry, we can propose "crossover" solutions. For example, innovative applications for aerospace or wind power installations can be useful in improving products in many fields, in particular those exploring the possibilities of using thermal expansion molding of composites in their innovation and product development programs.
We are available worldwide to serve you, from the R&D to the industrialization phase to find and customize the right silicone products to achieve increased process efficiency and operational excellence, help to reduce costs, energy consumption and waste, while ensuring safety for operators, all of which contribute to bringing down Total Cost of Operations. Other services also include regulatory support, assistance to roll out productivity programs, training for teams and collaborative work on new developments.
Contact us
Take your business to the next level by partnering-up with a global leading material manufacturer.