Opening ceremony at the new Elkem Foundry plant in China
On 12 December, Elkem celebrated the opening of a new Foundry plant in Shizuishan city, Ningxia province.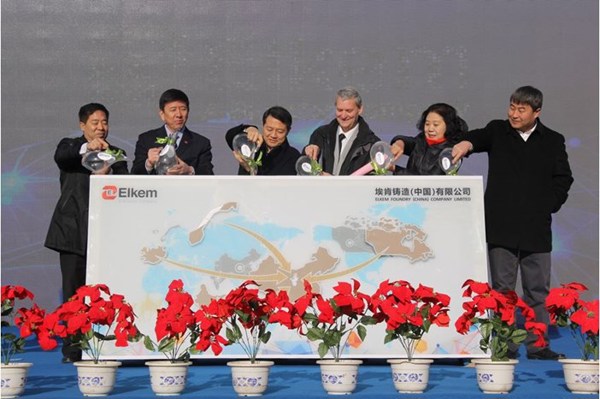 The evening before the ceremony, Elkem China hosted a dinner for the customers. Roland Hennigfeld, VP of Sales & Marketing in Elkem Foundry Products, welcomed the guests by explaining the Foundry products business model in a new way: He compared the business model to a fine dining restaurant, where Elkem's customers are the professional chefs who need high quality ingredients to best serve their dinner guests. Elkem Foundry Products represents the condiments needed for taking the meal to another level, and in this particular restaurant, the spices are MgFeSi and Inoculants. With several years of experience from cooking in high quality castings, the experts from Elkem can advise on how to best use the condiments. The amount added is important, as well as which spice is used for which dish. It is also key that the dish does not become too expensive, and Hennigfeld added that Elkem's "kitchen assistance" will assist in both keeping the costs down and to ensure high quality.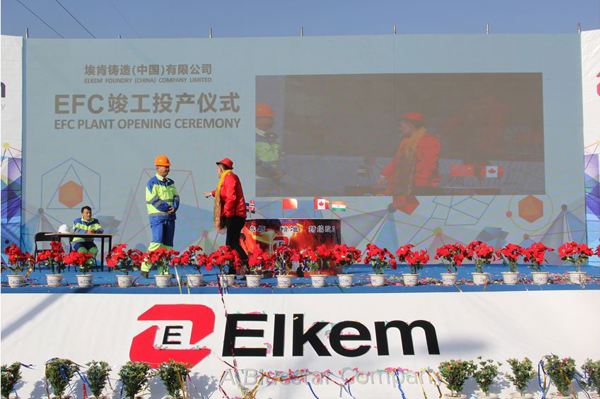 On the day of the ceremony, Elkem staff and managers, customers, government officials from Shizuishan and Vice President of the China Foundry Association where gathered for the celebration. Jean Villeneuve, SVP of Elkem Foundry Products, told the story of the journey that led to the opening of the plant. In 2013, Elkem Foundry Products decided to "become a true global leader in metal treatment solutions to the iron industry". At that time, the division had a strong footprint in North America and Europe and had identified a need for local production in Asia. Shortly after, the construction of the new plant in China began. This new plant will help Elkem in delivering tailor made solutions to customers that will reduce costs and increase efficiency.
The General Manager of Elkem Foundry Products, Mr. Liuhe, spoke of Elkem's long history as a technology provider and the Vice President of the China Foundry Association wished Elkem the best of luck with the new plant.
After the ceremony, the attendees visited the new plant, which has advanced technology, high EHS standards and follows the Elkem Business System. Making sure that all plants have the same standards and company culture is an important strategy for Elkem in China, and when promoting Elkem Foundry Products new business in China.
Congratulations to Elkem Foundry China!