Material topics for Elkem
The materiality assessment highlights Elkem´s priority issues on sustainability and ESG based on comprehensive dialogue with both internal and external stakeholders. The material topics with highest priority in our materiality assessment can be found at the top right of the table.
Corporate social responsibility includes a wide range of issues for a global and complex group like Elkem. Over the past years, Elkem has expanded its operations from solely being a producer of silicon and ferrosilicon. Today Elkem's value chain includes silicones, thus creating a vertically integrated value chain covering all steps of the process from quartz mining to a wide range of advanced silicon and silicone-based speciality products.
In 2020, Elkem conducted an updated comprehensive analysis of external and internal stakeholders that are either impacted by the company's operations, or whom, in different ways, have an impact on the company. The previous analysis was conducted in 2018.

The stakeholder engagement process and materiality assessment
were done in alignment with the framework of the Global Reporting Initiative (GRI) and was conducted by third-party advisors to ensure objectivity during the analyses.
The assessment included four steps:
1. Issue identification through an extensive benchmarking of Elkem's peers.
2. Issue prioritisation based on quantitative and qualitative stakeholder dialogue.
3. Internal stakeholder engagement to review, refine and approve the material topics.
4. Disclose outcomes, targets, and material objectives in our external communication.

The assessment included interviews with our external and internal stakeholders, followed up by a survey to quantify results.
Included in the analysis was the following stakeholders: investors, board members, employees, local and national authorities, banks, local community and organisations, unions and customers. For a detailed overview of Elkem's stakeholders, type of dialogue and issues of interest, please see the table at the end of the site.
Elkem's key stakeholders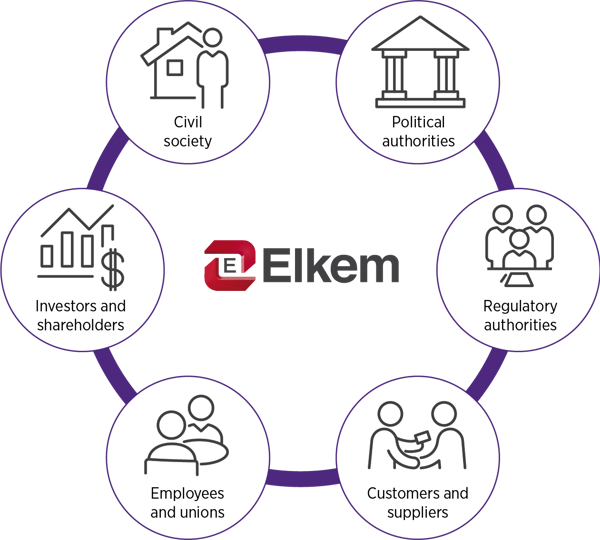 The results from the stakeholder dialogue have given Elkem valuable insight into which economic, social, governance and environmental topics that we impact in our operations that should be prioritised based on stakeholder importance. The identified material topics maps Elkem's operational
impact, our stakeholder importance and our ESG strategy development.
Compliance is not represented in the updated materiality matrix as compliance is integrated in all of Elkem's business areas and will continuously be material to Elkem. Being compliant is the fundamental baseline for all of Elkem's activities and relates to all material topics covered in the report. Compliance is a recurring topic throughout the ESG report.
The world of sustainability is changing, and the list of material topics from Elkem's stakeholders has also evolved since 2018. The main changes from the 2018 assessment are that climate change mitigation and labour rights are given the highest priority.
Anti-corruption and anti-competitive behaviour are still considered as important topics to Elkem, but they are no longer considered as the most material topics. The new materiality matrix has been evaluated by the ESG
Steering Committee and approved by the Board of Elkem.