Material topics for Elkem
The materiality assessment highlights Elkem´s priority issues on sustainability and ESG based, in alignment with the GRI framework.

Corporate sustainable responsibility includes a wide range of issues for a global and complex group like Elkem. Over the past years, Elkem has expanded its operations from solely being a producer of silicon and ferrosilicon. Today Elkem's value chain includes silicones, thus creating a vertically integrated value chain covering all steps of the process from quartz mining to a wide range of advanced silicon and silicone-based speciality products.
Elkem works to ensure best practices within ESG to ensure socially responsible and sustainable business practices for all stakeholders. Elkem evaluates the sustainability materiality at least once a year in accordance with the widely used reporting framework Global Reporting Initiative (GRI), but more comprehensive materiality assessments are done every third year.
When doing the comprehensive materiality assessment Elkem the analysis includes input from external and internal stakeholders that are either impacted by the company's operations, or whom, in different ways, have an impact on the company. The stakeholder engagement process and materiality assessment is done in alignment with GRI framework and was conducted by third-party advisors to ensure objectivity during the analyses. The results from the stakeholder dialogue give Elkem valuable insight into which economic, social, governance and environmental topics that we impact through our operations and should be prioritised based on stakeholder importance.
Elkem has implemented the updated GRI Standards based on the materiality assessment from 2020 and the process for identifying ESG risks in the value chain in 2021.
The steps to further identify material topics followed the recommended steps provided by GRI:
Understand Elkem's sustainability contexts
Identify actual and potential impacts
Assess the significance of the impacts
Prioritise the most significant impacts.
Elkem considers the sustainability through the business model, sector and the nature of its impacts, geographic areas, and cultural and legal operating context. Actual and potential negative impacts are identified during the risk assessment based on Elkem's value chain from raw materials extraction, production and processes to the market and end products in each division. Elkem then assess and prioritise the different topics according to their the positive and negative impacts in the value chain.
The dynamic material topics and their impact will be continuously evaluated by the ESG steering committee and approved by the board of Elkem annually. Updates to material topics are communicated in the annual report. Elkem reports in accordance with the Global Reporting Initiative (GRI), and the report subject to a limited assurance by an independent and authorized auditor.
Elkem's key stakeholders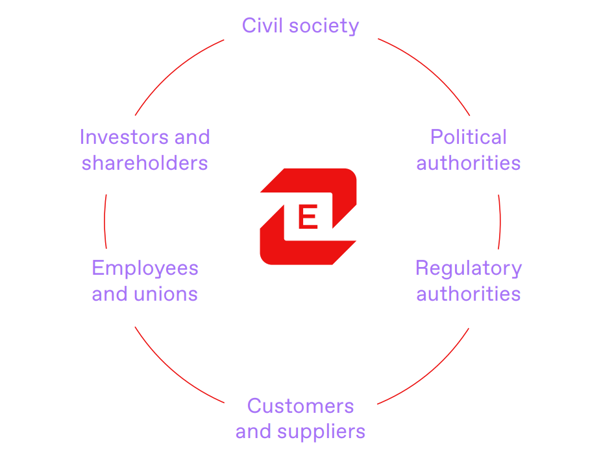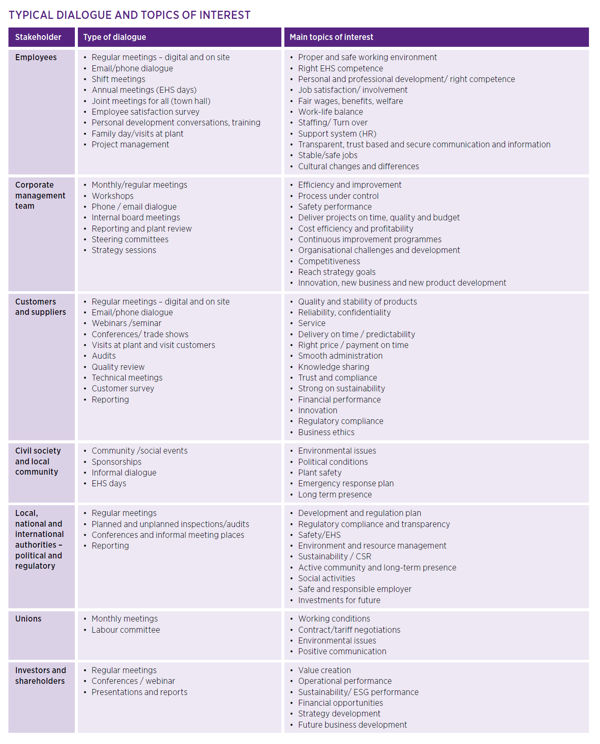 Contact us
Take your business to the next level by partnering-up with a global leading material manufacturer.