Silicone: material of choice for electrical cable accessories
Ensuring safe and reliable connections in low, medium and high-voltage electrical transmission

Demand for electrical energy is growing worldwide. Whether produced by traditional fossil fuels, nuclear power plants or various sources of renewable energy, reliable and safe cables are more crucial than ever. Manufacturers of equipment for high-voltage current transmission and low and medium-voltage distribution are demanding safer, more durable, innovative and cost-effective solutions. Silicone rubber accessories are increasingly the materials of choice for wire and cable accessories because they offer high mechanical and insulation properties, ensure heat and fire resistance and can be used for a wide range of cabling applications in various sectors: utilities, construction, railways, urban lighting, electrical vehicles (EV) rapid charging stations, etc.
Silicone rubber cable accessories are also increasingly in demand to counter the effects of climate change and respond to the greater occurrence of extreme weather events. Silicones offer more to resistance to UV and extreme temperature fluctuations than organic polymers or other rubber and plastic materials. Elkem offers specific products to its customers for emergency relief after natural disasters such as devastating hurricanes as we did in 2019 in the US. Silicones are also the best material for multiple voltage cable accessories because they comply with the most rigorous international standards and specifications.
What are the main advantages of liquid silicone rubber (LSR) materials for electrical cable accessories?
Insulators and cable accessories are used to protect all power lines and high-voltage transformers at key connection points. These accessories include bushings, surge arresters, junction fasteners, cable ends, etc. In the past, glass or ceramic insulators were used because of their low price and availability, but they have shown their limits since they are heavy and brittle. Cold-shrinkable cable accessories made from LSR in various molding, extrusion and injection processes provide more reliable and durable accessories to connect cable lengths between them or to connect the cable with the overhead transmission line and the equipment in each substation. These various connection and insulation devices Include indoor and outdoor cable terminals and intermediate connectors.
These LSR or elastomeric composite insulators feature:
Excellent mechanical properties that protect cables and connections from shocks during shipping and installation and, after installation, when exposed to weather and other environmental pressures, including UV rays, wind, rain, snow, etc.
Low weight, on average 80 % lighter than glass insulators, which puts less pressure on critical junctions
Reduced costs for transportation, installation and maintenance
Better hydrophobic properties after contamination and corona discharges compared to EPDM (Ethylene Propylene Diene M-class) rubbers and other organic polymers due to the reorientation of PDMS (Polydimethylsiloxane) chains and the regular distribution over time of low molecular weights to the surface of the elastomer.
Our product offering
Elkem has developed (and is continuing to develop) a versatile product range and portfolio of formulations for making silicone rubber cable accessories, using different technologies and products that meet increasingly demanding technical and regulatory requirements.
Here are a few examples of our products:
BLUESIL™ EP 531/40 G A/B A2, a two-component liquid silicone rubber is designed for producing medium and low-voltage insulating parts through injection (after an A/B mix at a ratio of 1:1), such as indoor and outdoor terminals, three-finger cots, cable joints, etc.
Key performance factors include:
Low tension set
Excellent elongation at break and tensile properties
Excellent bonding properties with electrically conductive parts
Excellent insulating performance
Inclusion-free
Efficient processability
BLUESIL™ EP 560 A/B A2, a two-component liquid silicone rubber designed for producing electrically conductive parts through injection (after an A/B mix at a ratio of 1:1), such as stress cones, shielding tubes, etc.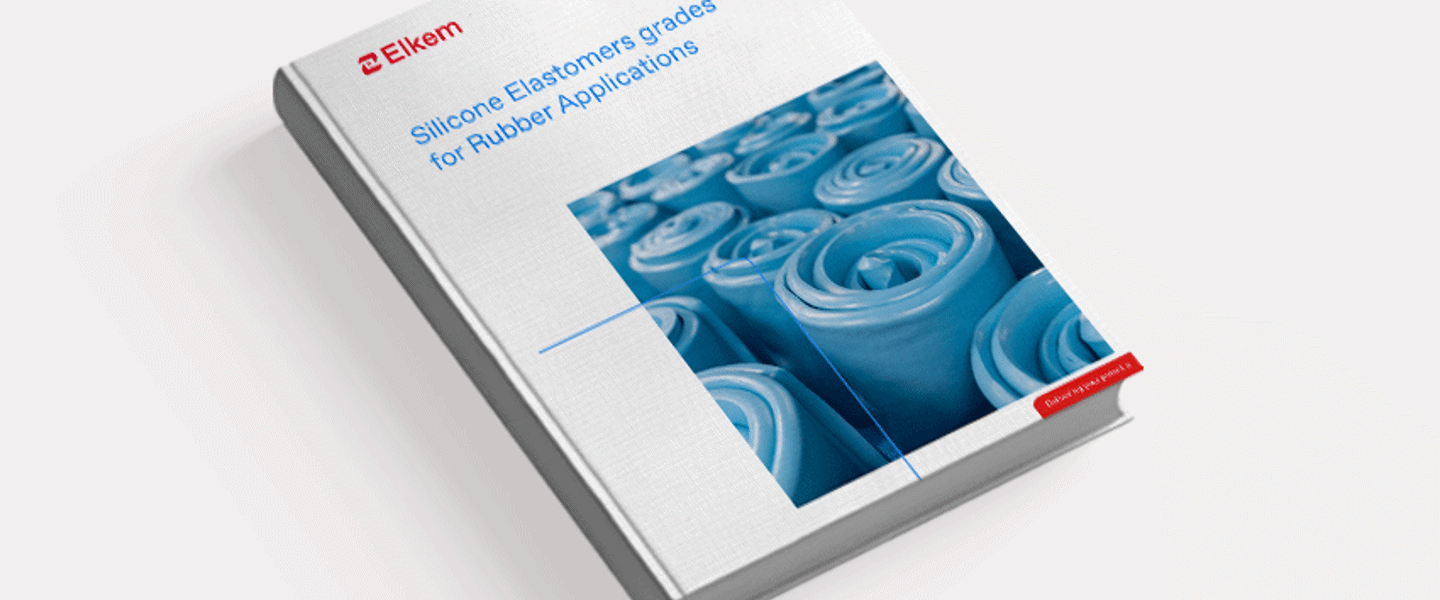 Rubber General Guide
Your journey to the heart of our silicone elastomer solutions.
Key performance factors include:
Low volume resistance
Good processability
Good anti carbon-transfer capabilities
Excellent mechanical properties
Low tension set
Good bonding properties, with insulating LSRs
Inclusion-free
Why choose Elkem as your partner for silicone-based electrical cable accessories?
For several decades, Elkem has been supplying LSR RTV & HTV (Room Temperature or High Temperature Vulcanized) products to manufacturers and utility operators for low, medium and high voltage applications. These include silicone insulators for electrical transmission and distribution, hollow core insulators for transformers, surge arresters and assorted cable accessories.
We custom-design and deliver solutions that allow each of our customers to optimize their specific processes, while complying with national and international standards (e.g. IEC 62217, IEC 62039, etc.). This understanding of diverse markets and our flexibility have been the basis for numerous partnerships worldwide with leading companies.
Elkem Silicone experts are available worldwide to advise customers and offers complete support services through our worldwide network of Mix & Fix™ Centers, conveniently located on all continents. Other services include regulatory support, assistance to roll out productivity programs, training for teams and collaborative work on new developments.
Contact us
Take your business to the next level by partnering-up with a global leading material manufacturer.