Silicone for special effects & medical training aids
Creating high fidelity and realistic anatomical simulations, quality props and replicas for medical training and special FX

Create life-like reproductions with silicones for special effects and medical training aids
The use of customized silicone formulations in the creation of special effects and medical training aids enables artists and professionals to meet a wide variety of application requirements from medical models to the creation of masks and props.
Special effects artists and medical training professionals have long appreciated silicones as the material of choice for advanced molding applications because they are versatile, convenient, easy to mix, extremely flexible and durable. This means they maintain their accurate and spectacular physical properties in terms of library life as well as in an increased number of cycles or parts yield per mold. These are an essential requirement in feature motion picture and television productions and long-running theater shows, for example. These characteristics also apply to simulating human anatomy for practicing techniques ranging from suturing and bandaging to complex procedures.
When used for make-up or skin effects, performer and employee health requirements must be respected. This is why Elkem Silicones, with its vast experience in producing medical grade and skin care products, offers skin-safe silicones for a wide array of special effects. This includes silicone prosthetics, realistic masks worn for long periods of time, simulated wounds and other creative effects where skin contact is required. These considerations are particularly critical in the high-growth area of Cosplay events around the world, where silicones are used to make elaborate costumes, masks, and a wide series of props and accessories.
Silicone proves to be an excellent material choice for soft parts in order to replicate the feel of human skin as well as internal organs. Oftentimes, torsos are constructed using silicone skins and subsequently back poured with flexible polyurethane foams. These parts are used in a variety of training applications such as the proper technique for applying bandages, advanced wound care, and other surgical procedures. Silicone skin back poured with flexible polyurethane foams are perfect to simulate torsos and are utilized in training proper CPR techniques. These are just a few of the many applications currently using silicone in the field of Medical Training Aids and anatomical simulations.
Silicones are ideal for these various applications because of their versatile technology:
From soft silicone gels to medium and hard silicones that are perfect for making silicone molds and parts, enabling you to zero in on the exact design and production with a wide array of quality formulations.
Complementary products and additives that allow technicians and artists to adjust the levels of viscosity, curing times, softness or hardness features, robustness, etc.
Silicone processing can be adapted to meet everything from high demand industrial production needs to the artist's specific, detailed requirements with hand-made creative work.
Elkem Silicones is leveraging its experience, acquired for over 50 years to create innovative wearable costumes, accessories and make-up effects as well as creating exact anatomical simulations. This understanding of these very diverse needs and the company's flexibility have been the basis for numerous partnerships worldwide with leading entertainment companies.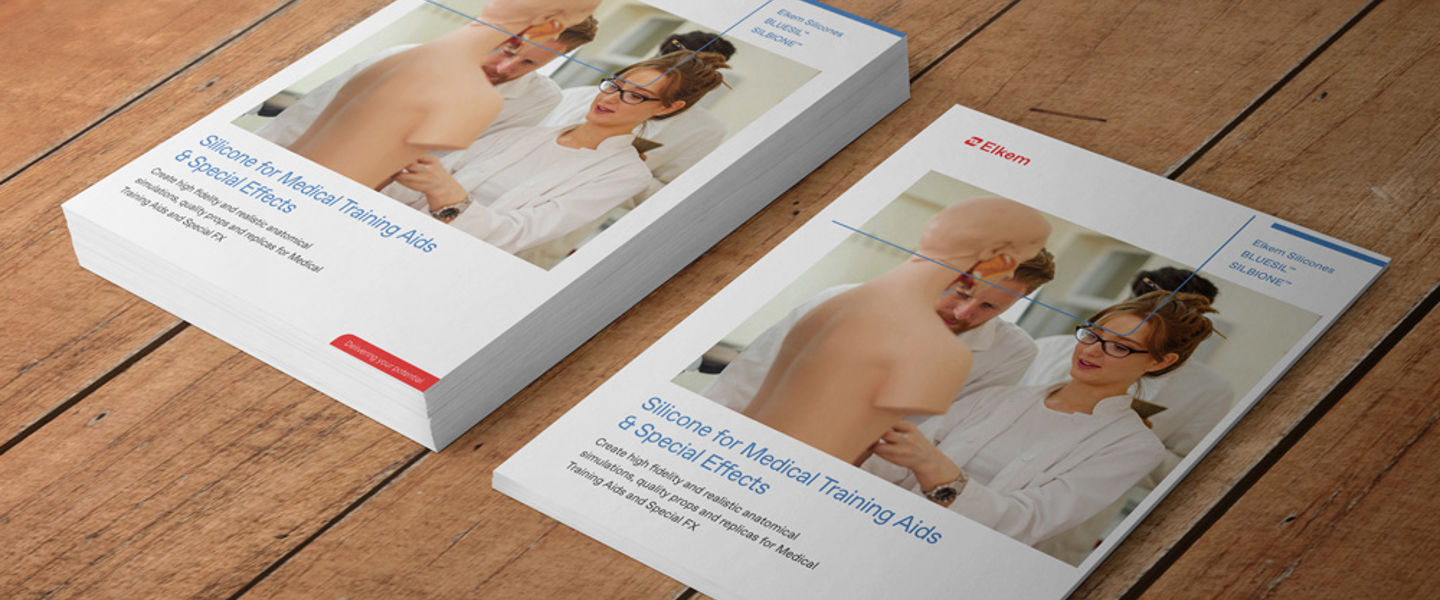 Silicone for Medical Training Aids & Special Effects
Create high fidelity and realistic anatomical simulations, quality props and replicas for Medical Training Aids and Special FX
To serve other industries that want to leverage entertainment special-effects and medical training aids, Elkem Silicones experts are available worldwide to advise customers and offer complete support services including technical, regulatory, assistance to roll out productivity programs, training for teams and collaborative work on new developments.
Contact us
Take your business to the next level by partnering-up with a global leading material manufacturer.