Celebrating 100 years at Fiskaa
Oslo, 08 June 2017: This month marks Elkems 100-year anniversary at the Fiskaa plant, and ever since then it has been an important place for the process industry in Norway.

Today Elkem is celebrating its 100 year anniversary at the industry area at Fiskaa together with the minister of Trade and Industry Monica Mæland, the mayor of Kristiansand Harald Furre, CEO of Elkem Helge Aasen and other guests.
Fiskaa forms the foundation for the business that Elkem is today. This is where the almost 100-year-old Söderberg electrode was invented. Elkem Carbon at Fiskaa is still one of the world's largest producers of inputs to this technology, which is still being used by about 70% of the world's smelting plants.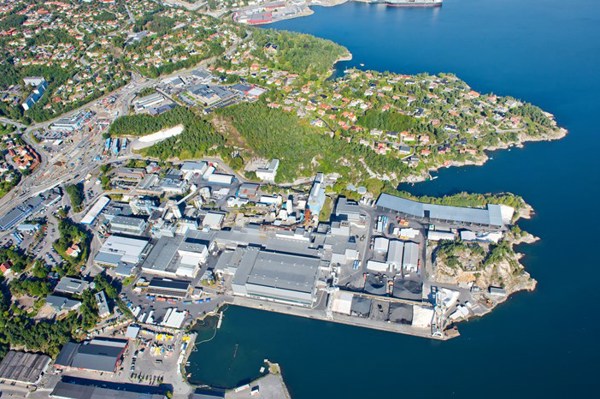 - In our 100 year long history at Fiskaa, research and development has always been an important driving force. The position we have gained through testing and developing the Söderberg method has not only formed the foundation of Elkems own business, but for the entire metallurgical industry, says CEO in Elkem Helge Aasen.
Research and development are still a key focus at Fiskaa today, where Elkem has over 10 000 square meters of advanced pilot testing facilities, laboratories and workshops. The plant, which has been there since 1917 has also gone through major modernisation and process innovation, including the development of Elkem Solar Silicon, a solar grade silicon that is produced using 75% less energy than conventional methods. Elkem Solar Silicon has been produced at Fiskaa since 2009.

- Today we are celebrating the development that has happened at Fiskaa, and we are happy that the area is still an important place for the development of the process industry in the future, says Aasen.
About Elkem:
Elkem is one of the world's leading producers of silicon-related advanced materials. The company is a fully integrated producer with operations throughout the silicon value chain from quartz, silicon and downstream silicone specialities as well as speciality ferrosilicon alloys and carbon materials. Headquartered in Norway, Elkem has a strong global footprint with about 3800 employees, 24 production plants, two research centres and sales offices in over 50 countries. Elkem is owned by China National Bluestar.
Contact us
Take your business to the next level by partnering-up with a global leading material manufacturer.