Elkem Solar has been awarded "Norwegian climate business of the year 2017"
Oslo, 31. October 2017: The company have been selected the winner of the award due to its groundbreaking and long-term work with the development of a new production method for solar silicon.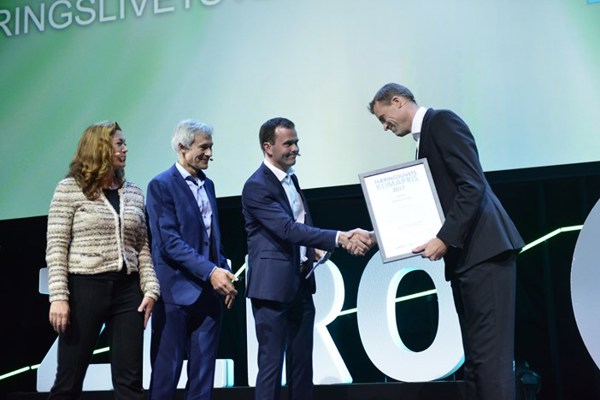 "It's an honour to accept this award on behalf of all Elkem Solar employees. When we started working with solar about 10 years ago, it was a small niche, and today the world market is 50 times bigger. Getting where we are today has been a true adventure, despite the challenges along the way", says plant manager Geir Ausland at Elkem Solar.

Silicon is the most important component in solar panels. Elkem Solar developed a high purity silicon for use in silicon wafers, Elkem Solar Silicon (ESS®) in 2009, and has the lowest CO₂ footprint of all production technologies for solar silicon today. Elkem Solar uses 75% less energy in the production of solar silicon compared to its competitors.

"In the years to come, the majority of new power capacity will be renewable. Solar cells are not the only solution, but it's clearly the solution that is most efficient in counteracting climate change worldwide. We want to be part of developing these solutions", says Helge Aasen, CEO in Elkem.

The jury stated that Elkem Solar has been selected the winner of the award due to its ground-breaking and long-term work with the development of a new production method for solar silicon. The method has lower emissions, less energy consumption and increased cost efficiency. Through dedication to innovation, long-term ownership and a strong focus on cutting emissions, the company is a driver towards green growth. High quality silicon from Elkem Solar is key in making the products more completive, and a great example of how the Norwegian processing industry can be world leading in an international market.

"This has been made possible through high-pace development, a strong focus on cost reduction and a unique process, and would not have been possible without the unique group of people working at Elkem Solar", says Plant manager Geir Ausland.


Contact information
Geir Ausland, Verksjef Elkem Solar, tel: 48 00 28 20, e-mail: [email protected]
Kristin Karlstad, VP Public Affairs, tel: 99 22 66 04, e-mail: [email protected]
Background information
Headquartered in Norway, Elkem Group is one of the world's leading providers of environmentally responsible silicon-related materials. The Elkem Group is active in both the silicon and solar value streams through its four business areas of Elkem silicon materials, Elkem silicones, Elkem foundry products and Elkem carbon, and, Elkem Solar through REC Solar (ww.recgroup.com). Elkem Group has an annual revenue of 2.6 billion Euros, 29 production sites and about 8500 employees around the world.
Contact us
Take your business to the next level by partnering-up with a global leading material manufacturer.