Silicone sealing and bonding solutions for the energy industry
Empowering the future of efficient energy production, distribution and consumption

Never in the history of humanity has energy played as crucial a role in our societies as it does today and never has it been as central to the way we envisage our future. Energy sources are today more diverse and abundant than ever and are at the heart of our economic, ecological and political debates. While trying to manage and potentially reduce our dependence on traditional fossil fuels such as oil, gas and coal, most countries are attempting to find the right balance between economic development, energy efficiency, independence and environmental responsibility.
Achieving these complex goals must necessarily take into account problems related to climate change, in particular by reducing emissions of pollutants, CO₂ and other greenhouse gasses. While these are mainly produced by fossil fuels, they are still a key element in our energy consumption and must be managed as part of the strategy to providing accessible energy to the greatest number as cleanly and efficiently as possible.
Finding the right mix for replacement energies, between nuclear energy on one hand, for example, and renewable power generated by hydro, solar, wind and bio sources, on the other hand, are also among the most challenging issues.
Energy providers in all sectors, whether traditional or renewable, must ensure that whatever energy they produce, it must be as safe and economical as possible, while causing the least possible environmental damage. They know they can count on the high-performance quality and long-term durability of Elkem to cover all their sealing and bonding needs, from the initial source of energy production to its consumption, via its transport and distribution.
What are the main applications and advantages of silicone-based products for energy producers and providers?
The vast Elkem product portfolio serves the needs of energy producers and providers in every sector of the energy industry:
Bluesil™ engineered elastomers offer solutions for the protection and thermal management of equipment and reliable thermal protection and insulation to reduce energy loss and generate savings used in oil extraction.
Bluesil™ engineered elastomers and foams are essential for sealing and manufacturing safe radiation shields for nuclear power plants, as well as coating and encapsulating electrical and electronic applications, with outstanding thermal and flame resistance.
CAF 30 NUCLEAIRE elastomer adhesives act as a flexible bonding agent to provide durable sealing and shielding for electrical cables and installations subjected to extreme temperature variations in nuclear power generation, excellent fire and chemical resistance and protection from natural aggression.
Nuclear
Thanks to this huge experience in Passive Fire Protection
Bluesil™ and CAF™ elastomers facilitate the assembly of photovoltaic solar modules and are critical for sealing, bonding and potting electrical components, protecting equipment from moisture infiltration, extreme temperature fluctuations and weather conditions (wind, rain, snow, moisture and mechanical stress).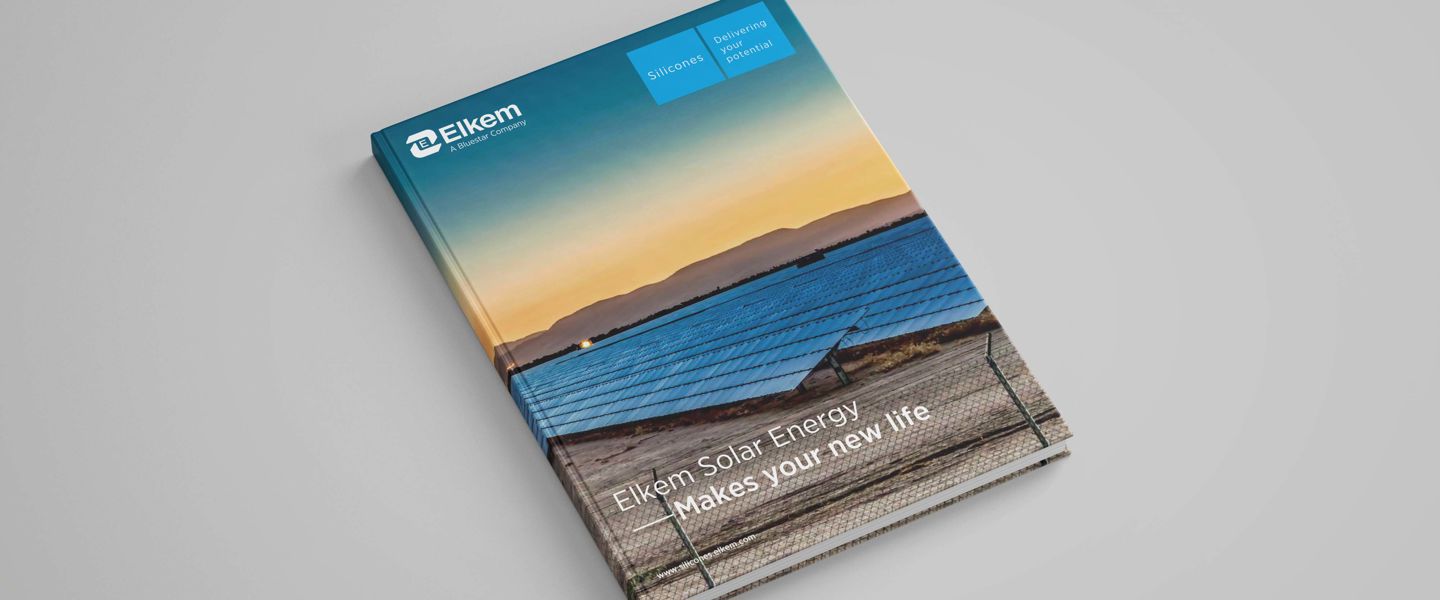 Electronic Silicone Adhesives for Solar Panels
Discover in this brochure the advantages of BLUESIL™ ESA for Solar Panels
Bluesil™ silicone solutions are used for infusion molding of the composite materials in windmill blades.
To ensure reliable power supply, distribution and transmission, Bluesil™ silicone elastomers are used for efficient sealing and bonding to protect and control heating of key components, such as electrical cabinets.
Why choose Elkem for efficient and reliable sealing and bonding for energy applications?
We have 60 years of experience in providing effective and innovative silicone sealing and bonding solutions to the full range of energy-producing industries. Elkem expert teams know the specifics of each sector and each region in this very diversified field we always work closely with our customers upstream in R&D, we listen to their needs, we provide them with the best sealing and bonding products, backed with process and application guidance and on-site technical services.
Elkem has, for many years, been working closely with companies in the construction, maintenance and upgrade of nuclear power and recycling plants. Our longstanding experience in protecting particularly critical sites that use or process hazardous products, such as nuclear power plants. This has enabled us to establish the highest benchmarks for efficiency and safety. A fire or a flood in a nuclear installation, for example, can cause widespread damage both to the facility and the environment: automatic reactor shutdown, destruction of essential materials and dispersion of hazardous radioactive or chemical substances. In this area, Elkem is particularly focused on providing state-of-the-art silicones that contribute to efficient and safe operations for fire prevention and waterproofing. The knowledge gained in these most demanding areas is shared and applied across all our business units serving the energy industry.
Elkem is a fully-integrated global silicone manufacturer, mastering the full value chain from quartz to specialty silicones. This way, we can offer or achieve increased process efficiency and operational excellence, help to reduce maintenance, energy consumption and waste, ensure safety for operators, all of which contribute to bringing down Total Cost of Operations. Also, because we are involved in all sectors of the energy industry, we can often propose "crossover" solutions. For example, innovative applications in solar power installations can be useful in improving wind power components or hydro operations.
Other services also include regulatory support, assistance to roll out productivity programs, training for teams and collaborative work on new developments.
Contact us
Take your business to the next level by partnering-up with a global leading material manufacturer.