Silicone wearable solutions, your ally for keeping up with your customers high tech requirements

The trend of wearables is ever expanding and continues to have a growing market demand. Industries are striving to fit the latest technology into increasingly lighter and more compact spaces, while increasing product capabilities. Today, wearable solutions include activity trackers for health monitoring and fitness, which can be incorporated into smart clothing or smart watches and glasses. Wearable solutions are also advancing in medical devices including glucose and heart rate monitors that are incorporated into smaller patches and devices worn on the skin by patients.
Manufacturers face challenges when designing and developing new wearables to fit the high-tech requirements of their customers seamlessly into the device. From waterproof technology, battery and sensor protection, to providing comfort and durability on the skin, Elkem Silicones has the solution.
Protect your wearable electronic devices with silicones
To extend the life of wearable devices, Elkem Silicones offers differentiated products to physically protect and enhance their sensitive components, including electronic silicone adhesives (ESAs). These materials have excellent durability, provide bonding solutions, and can meet your dielectric property needs.
Elkem Silicones' Bluesil ™ ESA product range is ideal for potting and encapsulation applications. These products will protect and insulate wearable electronic components against severe conditions making sure they work in a safe and reliable way. From clear potting adhesive materials to tinted styles, we offer robust formulations with self-adhesive technology, eliminating secondary process steps to various substrates.
Wearable coatings to offer comfort and freedom of movement to your customers
To increase the comfort and utility of wearable devices, Elkem Silicones Textile Coating Systems (TCS) offer a range of solutions. From anti-slip coatings to comfortably hold a garment in place for accurate readings by sensors, to water-resistant coatings so e-textiles can be washed or worn in the elements, the TCS product range is engineered to offer excellent adhesion to textiles via a range of coating techniques.
Silbione™ TCS anti-slip product range includes 2-part liquid silicone or a tin free single component silicone elastomer to meet your production set-up and performance requirements. Our products provide high elongation anti-slip coatings that are skin safe and will comply with Oeko-Tex® Standards. Whether you need to knife coat a thermally resistant coating or extrude an anti-slip pattern on your device the Elkem Silicones team can assist in finding the product that meets your application needs.
Increase your monitoring sensors and skin contact with our medical grade silicones
To support the latest trends in the health and wellness market, our Silbione™ product line extends to medical grade silicones for these industries requiring high purity products and regulatory support.
Silicones have long been recognized as biocompatible and effective materials for a variety of skin care applications, including peel and stick technology for wearable skin applications and biomedical grade silicones for wearable medical devices. Silbione™ Soft Skin Adhesives offer varying tack levels designed specifically for skin contact applications, and provide gentle, non-irritating adhesion, even to the most delicate skin. Silbione™ LSR Select™, the newest, advanced silicone material designed to meet the challenge of overmolding sensitive electronics, can overmold printed circuit boards in a liquid injection molding process at 100 °C, resulting in functional parts with short processing times. This reduction of cure temperature, to as low as 80 °C in some cases, allows more design and processing freedom when overmolding sensitive electronics components for wearable devices.
Elkem Silicones is your single source supplier with a diversified product portfolio within the wearables space. From smart garment textiles, electronic components to medical grade skin contact devices; our team of technical experts is here to help you select the optimal material for your intended application.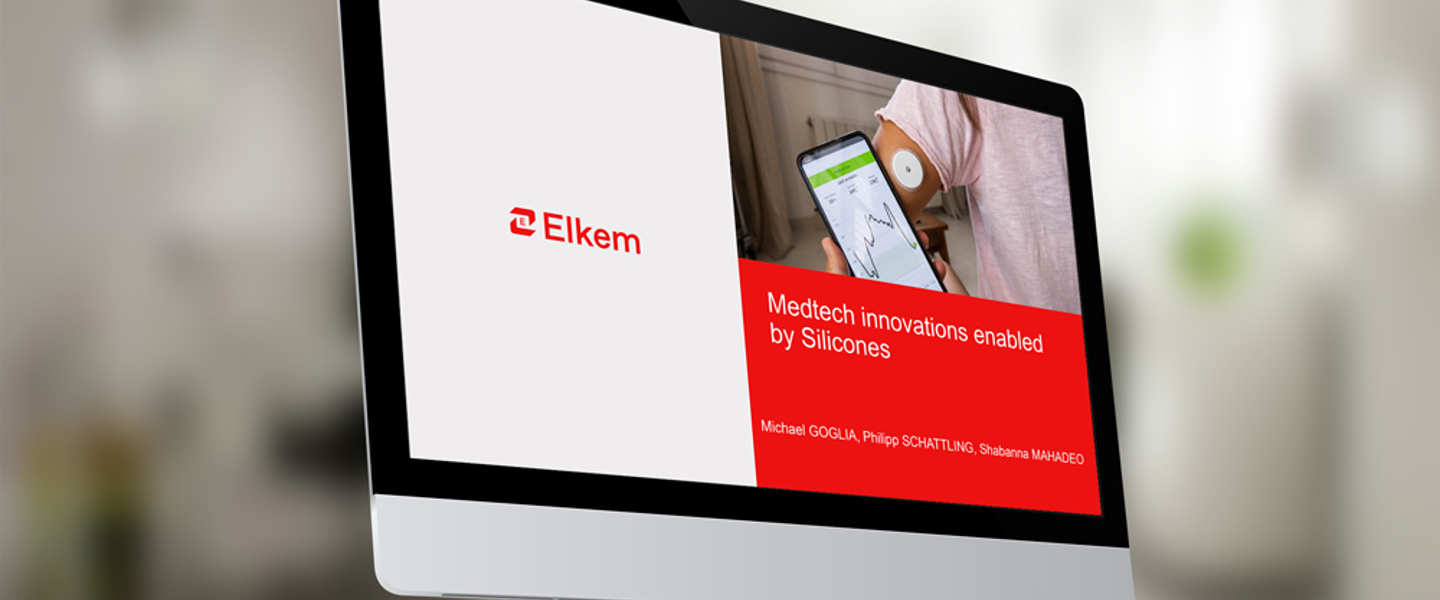 Innovative medical device trends enabled by silicone
Unleashing Medtech innovation, getting through regulatory & supply hurdles
Contact us
Take your business to the next level by partnering-up with a global leading material manufacturer.