Silicone solutions for technical textiles

There is an increasing demand for technical fibers and textiles in a very wide range of areas, from consumer goods to specialist applications. R&D developers, product designers and manufacturers are constantly seeking to develop new and innovative high-performance textiles that enhance functional efficiency, comfort and safety.
Silicones are the material of choice for the coating of technical textiles because they are versatile, easy to process, provide innovative performance features and guarantee durability. Elkem is committed to pushing the limits of what technical textiles can do with our textile coating silicone solutions.
Bluesil™ TCS (Textile Coating Silicones) systems are specifically engineered considering the characteristics of both the substrates and the processes, enabling optimized interaction between the textile and the coating material. The textile composite can then provide the best possible functions for each application, including:
increased tensile and tear strength
thermal, fire and UV resistance
abrasion resistance
ageing performance and durability
eco-friendly
waterproofing
anti-slip capabilities
compatibility with human health and safety needs, as well as comfort feature
Some of the end applications in which technical textiles are used and benefit from the performance features of silicone coatings include:
Airbags: Bluesil™ TCS coatings and seam sealers deliver the best and most durable compatibility with nylon and polyester textile substrates, thus ensuring that lighter and smaller airbags inflate in a split second at the time of deployment.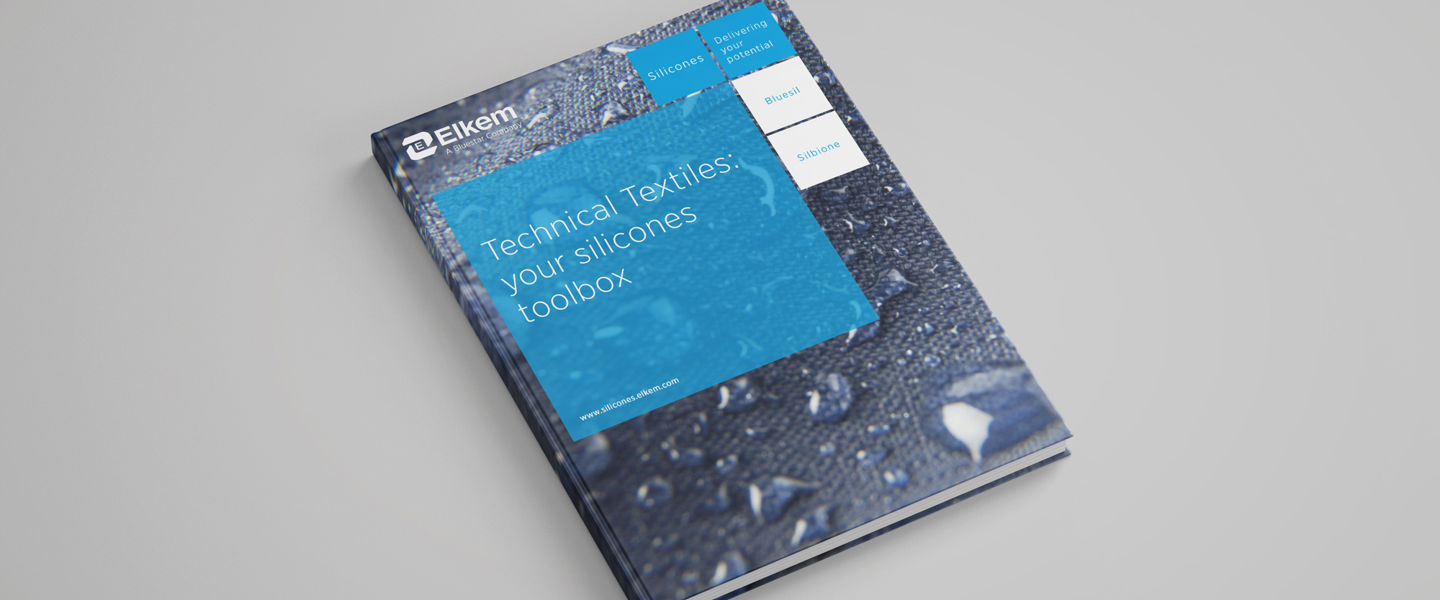 Your Technical Textiles Silicone Toolbox
Silicone Coated Fabric: Bluesil™ Textile Coating Silicones are used to create performance fabrics for high-end products such as furniture, automobile interiors and medical equipment. PU and PVC coated fabrics are no longer your only option when looking for leather alternatives. Silicone coatings are extremely durable, offer a modern look and comfortable feel while remaining free of solvents or harmful chemicals.
Protective fabrics: BLUESIL™ TCS silicone products are exceptionally resistant and withstand the harshest conditions of use. They bring added thermal insulation, as well as barrier properties against liquids, to medical garments or personal protective equipment.
Sporting Goods: Specially engineered emulsions and BLUESIL™ TCS formulations for textile coating make it possible to manufacture lighter and highly flexible textiles that provide waterproofing and the capacity to withstand harsh weather conditions.
Wearables: To increase the comfort and utility of wearable devices, Elkem Textile Coating Systems offer a range of solutions from anti-slip coatings to water-resistant coatings.
Anti-Slip Silicone coatings:A wide range of silicone elastomers are available for various anti-slip applications such as specialty conveyor belts, removable stickers, sports and working gloves, fashion accessories and medical devices to name a few.
Textile Printing Inks: Silicones are an environmentally friendly high-performance option for textile printing inks. The Bluesil™ TCS screen printable silicones provide formulators and printers with a tool box to develop a print effect that meets their specific need.
Architectural Textiles: Membranes and covering textiles used in buildings use silicone coatings to provide high-level mechanical properties, environmental resistance features and aesthetic qualities, such as luminosity. Bluesil™ TCS products also enable these functional textiles to meet the highest safety standards.
Industrial Textiles : Industrial textiles ranging from conveyor belts to textile heat shields benefit from silicone coatings. BLUESIL TCS silicone products bring added thermal resistance, mechanical strength, and excellent adhesion to the textile substrate.

At Elkem our experts are available worldwide to advise you and ensure that our products provide what is needed in your specific textile manufacturing processes. Bluesil™ TCS ingredients and formulations meet the highest quality standards and are easy to process and cost effective. We work closely with manufacturers to meet current needs and in long-term R&D partnerships to develop new products and meet evolving market demand and regulatory requirements. We also offer complete support services through our worldwide network, including reliable procurement and technical services.
Contact us
Take your business to the next level by partnering-up with a global leading material manufacturer.