Silicones for enhanced architectural and heavy-duty textiles
Silicone coatings protect technical textiles in critical applications and the harshest environments

There is an ever-increasing demand for high-performance technical fibers and textiles to meet the most critical needs. One particularly challenging area is the use of membranes and covering textiles in architectural applications to replace traditional building materials in large-scale structures. Silicone coatings are often used to reinforce construction fibers to provide high-level mechanical properties and resistance to environmental pressures, such as extreme climate variations, UV exposure, heat, fire, ageing, mechanical stress, etc.
On top of their technical advantages, which meet the most stringent safety standards, robust silicone-reinforced textiles enable architects to be more aesthetically creative and give engineers and builders a wider span and a more cost-effective choice over traditional "bricks and mortar" building materials.
Beyond their use in architectural applications, these special silicone-coated textiles and fibers are in great demand for protective tarpaulins in outdoor applications, from marine vessels, leisure crafts and Oil & Gas platforms to temporary protection following natural or man-made disasters.
What are the main advantages of silicone-based formulations to reinforce the performance of architectural and heavy-duty textiles?
Silicones are the material of choice for the coating of a wide range of specialty textiles because they are versatile, customizable, easy to process, provide innovative and robust performance features and guarantee durability. Elkem is committed to pushing the limits of what these technical textiles can do, in particular in critical applications such as architectural applications where human safety and comfort must be ensured to the utmost levels of reliability.
Our Bluesil™ TCS (Textile Coating Silicones) systems are specifically engineered to ensure the effective delivery of the characteristics of both the substrates and the processes, enabling optimized interaction between the textile and the coating material. In architectural and heavy-duty textiles, the composite is often given multiple coatings to provide the highest level of performance, including:
UV resistance where silicones provide superior protection against ageing and ensure greater durability in comparison to all other types of architectural fabrics
Tensile and tear strength to ensure safety and enable daring aesthetic designs
Insulation against heat in summer and cold in winter
Translucence, creating a brighter indoor environment and generating energy savings due to a reduced need for artificial lighting
Thermal and fire resistance for complete safety of people and property
Waterproofing and environmental protection to counter rain, humidity and corrosive elements
Compliance with the most rigorous human health and safety standards
Our product offering
Bluesil™ TCS 7513 is a two-component heat curing liquid elastomer of very low viscosity used in textile impregnation, or as a coating formulation base.
Bluesil™ TCS 7534 is a two-component, heat curing liquid silicone elastomer coating compatible with different textile substrates, made of glass, aramids, polyamide or polyester.
Bluesil™ TCS 7543 is a two-component, heat curing liquid silicone elastomer coating with high mechanical properties and adapted rheology for high coat-weights.
Bluesil™ TCS 7011 is a topcoat system designed to greatly reduce the coefficient of friction of silicone coated fabrics.
Why choose Elkem for making architectural and heavy-duty textiles?
Elkem experts are available worldwide to advise you upstream and make sure that our products do exactly what is needed for specific architectural and heavy-duty textile products. Bluesil™ TCS ingredients and formulations meet the highest quality standards, are easy to process and cost effective. We work closely with manufacturers to meet current needs and in long-term R&D partnerships to develop customized products and meet evolving market demand and regulatory changes. We also offer complete support services through our worldwide network, conveniently located near major industrial centers on all continents. Other services also include regulatory support, assistance to roll out productivity programs, training for teams and collaborative work on new developments.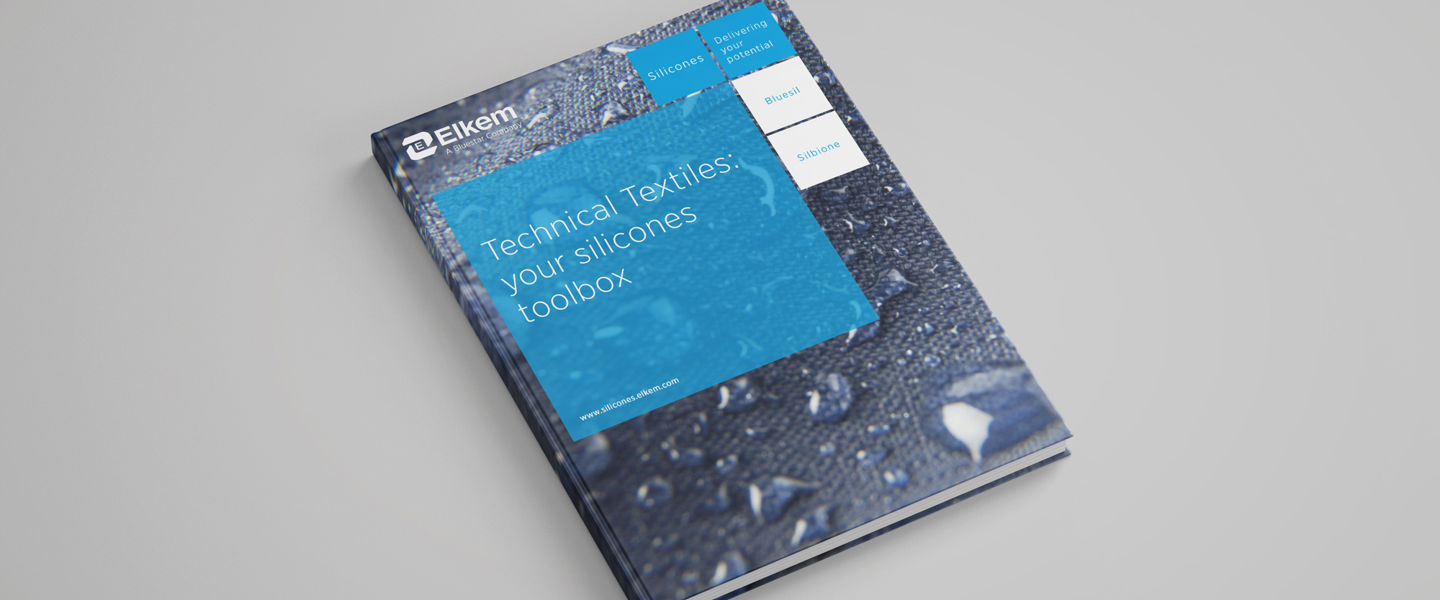 Your Technical Textiles Silicone Toolbox
Contact us
Take your business to the next level by partnering-up with a global leading material manufacturer.