Silicone molds for concrete casting
Produce high fidelity parts with silicone solutions for concrete casting

The perfect mold every time with silicones for concrete casting
Concrete casting stone materials or faux stone manufacturing allows you to reproduce detailed and accurate copies of designs. Faux stone, also known as cultured stone or manufactured stone, is used to create a variety of parts like stone columns and exterior wall sidings or veneers. Concrete casting is also used with indoor features such as faux stone fireplaces, accent walls, and other decorative architectural parts. In order to ensure that your design is reproduced accurately each time, it is important to have a mold made from the right material. Silicone molds are time tested and proven to be the mold making material of choice in high quality concrete part reproduction.
In some cases, polyurethane and latex materials have been used in the concrete casting process. However, these materials are problematic due to high and inconsistent levels of shrinkage. High shrinkage of mold materials does not provide the level of dimensional stability required to produce high quality faux stones used in veneers or panels. Silicone, with its very low shrinkage and excellent release characteristics, provides the required dimensional stability necessary to produce highly accurate part geometries for today's modern aesthetics and precision.
Polyurethane and latex materials not only shrink during the manufacturing process, but they also do not properly hold or maintain consistent color pigmentation. The color of manufactured stone is very important as the first stone produced should perfectly match the thousandth stone produced. Pigments used in concretes are water-based and can have issues with color fidelity causing higher part failure rates. When using concrete to manufacture artificial or cultured stone, silicone proves to be a great solution for color pigmentation because it is hydrophobic. Uniform color matching from part to part is very important because architectural parts such as veneer panels are made of multiple, varied shape stones where consistency and continuity are critical. Also, in landscaping for example, manufactured faux stones are used in a variety of parts such as steppingstones, planter boxes, outdoor fire pits and fire boxes. Due to the variety of architectural parts and shapes, consistency and continuity are important throughout the project.
Elkem' Bluesil™ RTV products are the materials of choice for creating high fidelity reproductions.
Product highlight:
Bluesil™ RTV 3433 is a two component, silicone elastomer which produces flexible molds with excellent detail reproduction and outstanding mechanical performance.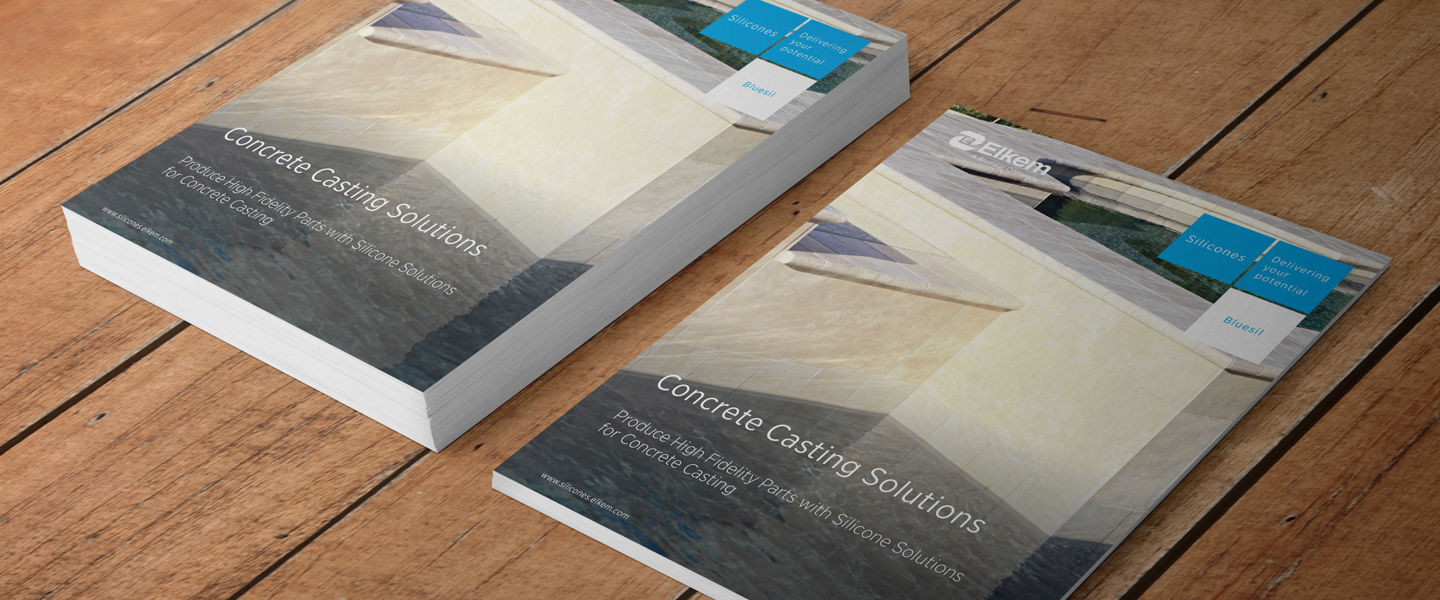 Silicone Solutions for Concrete Casting
Benefits of silicone for concrete casting:
Fast cure – makes a ready-to-use mold in 8 hours or less
Easy part release from molds
Detailed and accurate reproductions
Accurate part geometry (especially important in corner molds)
High color fidelity due to pigment retention
Low scrap rate
Contact us
Take your business to the next level by partnering-up with a global leading material manufacturer.