What are RTV-2 Silicones?
RTV-2 silicones are two-component, Room Temperature Vulcanization silicone rubbers, gels or foams. Each part of the system comprises of either a crosslinker or a catalyst that will react when the two parts are mixed together to render the intended properties. It can be customized to produce variable degrees of viscosity, adherence and mechanical, chemical or temperature resistance characteristics.

Chemical structure
RTV-2 is generally produced as a liquid or paste-like material, which after mixing and curing at room temperature, produces one of three physically different product types: solid elastomers, gels and flexible foams. RTV-2 would typically comprise silicone linear polymers, reinforcing mineral fillers or silicone resins, a crosslinker, a catalyst, and an inhibitor to control the pot life of the mix, so that it can be processed. Crosslinking is initiated by mixing the two components and occurs by condensation, using an organic-tin catalyst that generates alcohol, or by addition reaction with a platinum catalyst that does not generate any by-products. One of the latest trends in the industry has been to replace organic-tin catalysts by other organic compounds.
RTV elastomer silicone properties
RTV-2 products feature a series of high-performance characteristics that, make them remarkably stable in a wide temperature range, with elastomers remaining flexible from -80 °C to +250 °C, with some able to overcome brief exposure to temperatures of 300°C. At the other end of the scale, some types of RTV-2 silicones can deal with drops of -100 °C. They only break up at temperatures above 350 °C, producing an inert silica deposit that is non-flammable and non-combustible.
Generally, their dielectric properties associated with a good level of thermal conductivity of the corresponding formulations make them especially well suited for high-performance electrical insulation, without heat accumulation. Compared to other materials used with the same functionality like Polyurethane, their thermal resistance creates a huge advantage, and the fire resistance, which is commonly required in the protection of electronics systems, is outstanding in the case of silicone formulations. Finally, compared to other materials like epoxy resins, silicones offer the advantage of an extreme flexibility creating no stress during differential dilatation on the electronic components (Silicone Gels are even better on this specific property). Resistance characteristics include the ability to withstand long periods of exposure to severe atmospheric conditions. They also have good mechanical properties and their low surface tension enables them to properly reproduce surface detail, making them a material of choice for Molding applications. Many RTV-2 formulations provide an efficient release effect, more than cured rubbers have for organic and inorganic materials. They are ideal materials for molding, printing and prototyping applications.
Revision sheet
​RTV-2, two-component Room Temperature Vulcanizing, are silicone rubber formulations made by associating a base to curing elements. The curing is achieved by crosslinking, initiated by mixing the two components and occurs by condensation, using an organic-tin or, by addition reaction with a platinum catalyst.
RTV2 is available in a viscosity/hardness range varying from soft to medium, usually from 15 to 40 Shore A.
RTV2 features several advantageous characteristics, including ease of application and processing, light viscosity and good flowability, low shrinkage, no deformation, customizable hardness, resistance to high and low temperatures, acid and alkali, thus generating highly durable products.
Curing Mechanism (Polyaddition)

Curing Mechanism (Polycondensation)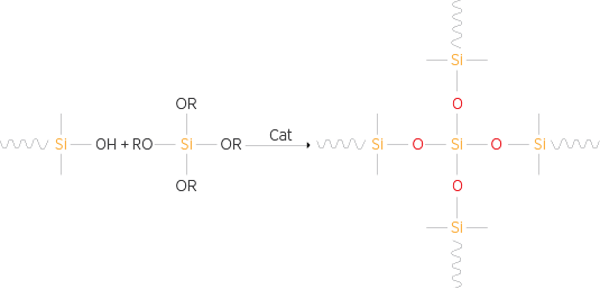 Raw materials mixed for specific processes and equipment, and then cured.
Application/final products
RTV-2 is used in textile coating, mold making, release coating, 3D or additive printing, cockpit instruments, potting of engine electronics and gasketing.
Discover our latest video "What are the differences between RTV-1 and RTV-2 Silicones?":
Why use RTV-2 silicones?
In the medical industry, our RTV-2 biocompatible products are used to manufacture silicone adhesives for skin-care products, such as bandages and sterile dressings for wounds on various substrates (PU films, knitted or non-woven fabrics, etc.) and for fastening medical devices. Bandages and other wound-care products can easily be repositioned, can be left on for long periods of time and, in the end, can be painlessly removed as newly formed tissues will not adhere to hydrophobic silicone adhesives.
For this application, RTV-2 silicones provide high levels of performance because of their high quality mechanical properties: very high tack, excellent shearing capabilities and durable peel adhesion. To benefit manufacturers, RTV elastomer silicone formulations can be designed to fit their production environment.
Comparing RTV-2 to RTV-1 silicones
RTV-2 cures more rapidly
Crosslinking can be slightly accelerated by raising the ambient temperature
Curing of thick layers possible
Flowable, self-leveling or non-sag grades are available
Self-adhesive grades, with very good adhesion to a large range of substrates
Related applications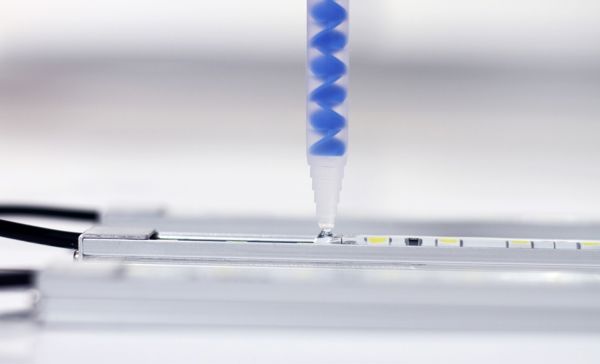 RTV-2 silicones are used in a wide range of industries and applications. They serve to produce flexible molds for manufacturing a wide range of technical and mechanical parts for industry and medical devices, either as the base material for the product itself or for making molds, release agents and adhesives, etc. In the form of elastomers, RTV-2 silicones are used for encapsulation and potting of electronic components in high-tech industrial and scientific equipment, as well as for coating textiles.
Contact us
Take your business to the next level by partnering-up with a global leading material manufacturer.