Chemicals
How silicone products are key for the performances of your chemical processes?

SILCOLAPSE™ foam control agents are key aids in numerous chemical and industrial processes that produce large amounts of foam.
Manufacturers of chemicals often use reactive silicone ingredients directly as intermediates in the synthesis of their products. Silicones are widely used as processing aids to improve the efficiency of chemical processes. As lubricants and as SILCOLAPSE™ foam control agents they minimize the reduction of effective reactor volumes, of pumping efficiencies, and of the shear in mixing operations. Foam control agents are also used in the treatment of aqueous effluent streams generated by chemical processing.
They will help you save both water and energy and thus lower investment and maintenance costs.
Benefits you will get from our SILCOLAPSE™ range are process productivity and reliability, easy handling, efficiency at low dosage even in severe conditions (temperature, pH) and reduction of safety and environmental hazards.
Our product offering
Elkem offers its customers a wide range of products that meet specific needs in all processes of the Chemical industry. Here are several examples of products available:
SILCOLAPSE™ EASY 10 is a new 10 % versatile easy-to-process silicone emulsion, highly effective for prevention, control and elimination of foam in numerous aqueous media, eliminating the need to use several products and providing excellent performance at low dosage levels.
SILCOLAPSE™ EASY 50 is a 50 % emulsion with an highly active content, easy to formulate and with an high stability of diluted emulsions.
SILCOLAPSE™ C525 is a 50 % emulsion, effective in a wide range of temperature, outstanding diluting stability and efficient defoaming performance.
SILCOLAPSE™ 414 is a 27 % emulsion with an efficiency in acidic and high temperature conditions.
SILCOLAPSE™ 495 is a high-performance emulsion designed for use in a wide range of aqueous industrial processes, even at elevated temperatures and under pressure.
SILCOLAPSE™ 621 is an emulsion highly effective and multipurpose in a wide pH range.
SILCOLAPSE™ RG 11 is a 10 % emulsion, effective in a wide range of pH and multipurpose, and easy handling.
SILCOLAPSE™ 825 is a medium viscosity 100 %-active compound defoamer, featuring easy handling and processing, especially designed to control aggressive media.
As mentioned above, this list is an extract of our SILCOLAPSE™ products available worldwide. We offer many other products, either regionally or for specialist applications in different territories or different chemical applications. For more information, you can contact our representatives in your area or request more documentation available on this page.
Elkem Silcolapse™
The Art of Foam Control
To begin with, we have 60 years of providing effective and innovative silicone defoaming solutions to the Chemical industry. Elkem expert teams have developed a full range of silicone foam control agents and processing aids to meet the entire chain of technical requirements in Chemical. We always work closely with our customers to back them with our on-site technical services and are devoted to providing them with the best products backed with process and application guidance.
Elkem is a fully integrated global silicone manufacturer, mastering the full value chain from quartz to specialty silicones. This way, we can offer or achieve increased process efficiency and operational excellence, help to reduce maintenance, energy consumption and waste, ensure safety for operators, all of which contribute bringing down Total Cost of Operations.
Customers can work with our technical and sales representatives, conveniently located near major Chemical production centers on all continents.
Other services also include regulatory support, assistance to roll out productivity programs, training for teams and collaborative work on new developments.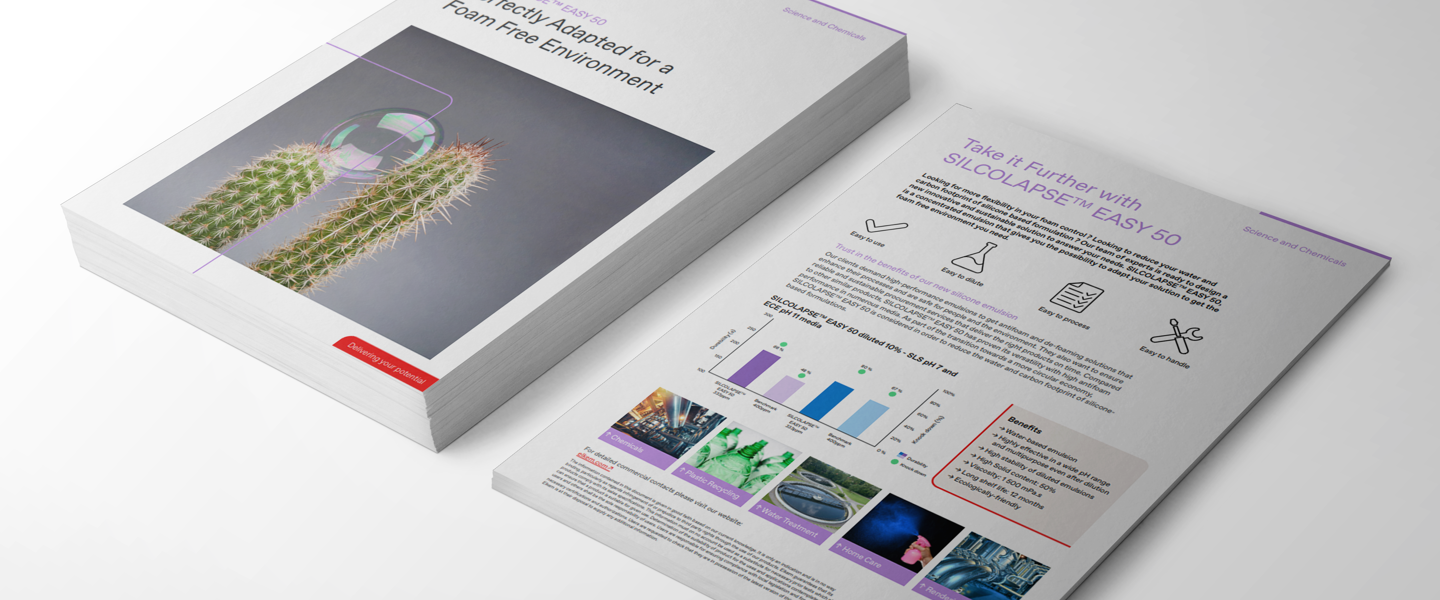 Silcolapse™ EASY 50
Perfectly Adapted for a Foam Free Environment
Contact us
Take your business to the next level by partnering-up with a global leading material manufacturer.