Foundry alloys for gray iron
Improving microstructure using foundry alloys

Gray iron accounts for the majority of cast iron production, and is valued where its unique properties, including castability, stiffness, heat dissipation and vibration damping, take priority – for example, in automotive engine cylinder blocks and brake disks. At Elkem we provide an unbeatable combination of quality products and expert advice on gray iron manufacture – in whatever country you're operating.
Gray iron: Maximizing casting quality and streamlining production
Gray iron, also known as gray cast iron, contains carbon in the form of graphite flakes, usually set within a pearlitic matrix. These flakes deflect passing cracks and give rise to new cracks as the material breaks, making it rather brittle. However, gray iron is easily machined because the graphite flakes reduce the force needed to cut through the material, while the graphite itself acts as a lubricant.
At Elkem, we offer an unbeatable range of precision-formulated recarburizers, preconditioners, inoculants and inserts to ensure your gray iron castings are defect-free, while also streamlining production.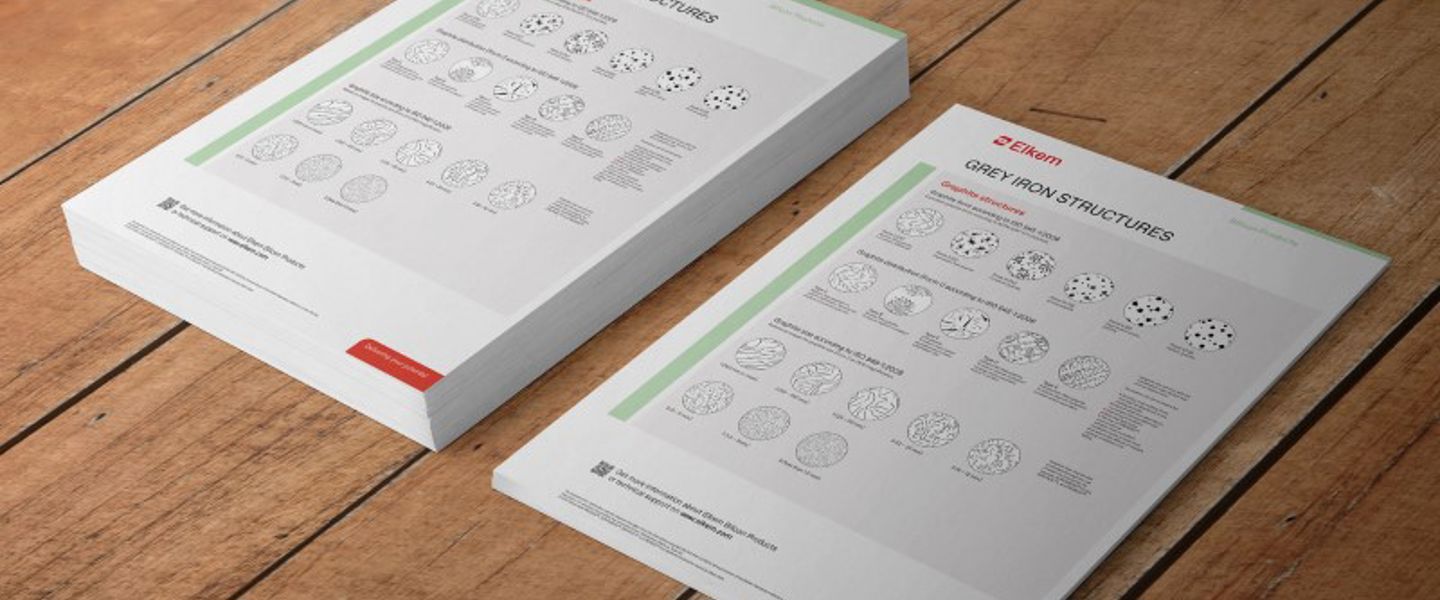 Discover the different characteristics of gray iron in this brochure
Recarburizers for gray iron
Recarburizers are particularly useful for adjusting carbon levels in gray iron base metal during charging of the furnace, and as a 'trimming' addition just before tapping from the furnace. Use of highly crystalline recarburizers ensures easy dissolution and maximizes carbon recovery.
Preconditioners for gray iron
The addition of preconditioners to gray iron melts can help to enhance and stabilize the nucleation potential of the base iron, so to avoid later nucleation 'fade', resulting in better-quality castings.
Inoculants and inserts for gray iron
Just before gray iron is cast, it is essential to use inoculants to ensure the melt has sufficient levels of nuclei. This is needed to form the desired flake graphite structure in a carbide-free pearlitic matrix.
Inoculants can be added just before casting, or in the mold itself, in which case they are known as inserts.
The Elkem advantage
For many decades, Elkem has been helping numerous iron foundries with their alloy requirements. We pride ourselves on our attention to detail and our willingness to tailor our offering to the application in question – only the best is good enough for our customers.
And with cost, quality and sustainability increasingly on the mind of iron foundries, we don't rest when it comes to our products and processes. From developing new formulations to consolidating our presence worldwide, we're always on the lookout for ways to improve what we do, and what we can offer our customers.
Browse our case studies

Avoiding micro porosity defects in iron castings

In this case, a leading grey and ductile iron foundry experienced some defects. They specialise in producing automotive, agricultural, earthmoving and engineering castings for the global market. Previously they worked with a competitor's inoculants and nodularisers. They experienced issues with machining their cast products.

Improving machined surface finish in grey iron automotive parts

Find out how Elkem expertise and specialised metal treatment package helped to produce defect-free grey iron automotive components.
OTHER FOUNDRY APPLICATIONS
Contact us
Take your business to the next level by partnering-up with a global leading material manufacturer.