Low trauma medical-grade silicones for a secure yet gentle adhesion on skin

Medical tapes are widely used throughout hospitals and medical practices whenever there is a need to temporarily attach something to skin, whether it's an IV drip or a bandage. Surgical drapes (and incision films) are used in the operating room to facilitate the incision and reduce infection risks for the patient. They are typically secured on skin with the help of a pressure sensitive adhesive (PSA).
For decades, the medical industry has relied on acrylic and hot-melt PSAs as they provide a relatively high adhesion on skin and are easily available. These adhesives, however, have a low conformability to skin, which means that their adhesion to skin will increase over time. This results in a painful removal of the tapes and drapes, as well as making them nearly impossible to reposition.
Medical grade Silicone Soft Skin Adhesives are soft and easily conform to the skin directly for a gentle adhesion and atraumatic removal. The atraumatic removal makes Silicone Soft Skin Adhesives ideal for Advanced Wound Care applications. They are typically used on fragile skin (neonates, elderly and diabetics patients for example) to reduce the risk of Medical Adhesive Related Skin Injuries (MARSI).
Elkem Silicones extended its range of Silbione™ RT Gel products to answer the needs of medical tapes and drapes manufacturers :
Biocompatible according to ISO 10993
Holding tightly on the skin
Painless to remove, not pulling hair or skin and reducing irritation
Does not leave residues on skin
Repositionable, giving healthcare professionals a second chance
Efficient at low coatweights to keep the manufacturing costs in check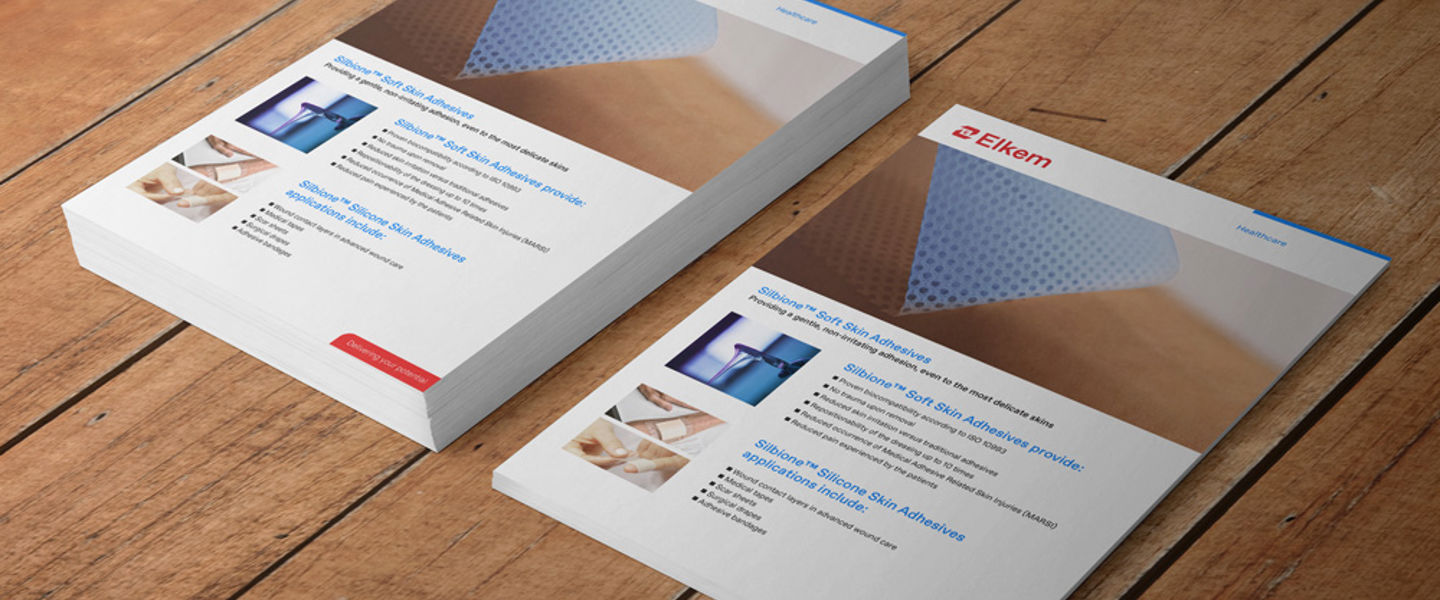 Medical Grade Soft Skin Adhesives for Healthcare applications
Discover our Soft Skin Adhesives product line
At Elkem silicones, we are dedicated people located around the globe, committed to your success. Whether you are looking for a product recommendation, for customized silicone solutions, or for regulatory support, we have the people in place when and where you want them.
Contact us
Take your business to the next level by partnering-up with a global leading material manufacturer.